EToro: The most well-known Copytrade Broker
It seems that only very experienced traders could know about eToro. However, this is really not a strange name for many people, especially traders who like to trade stocks. With decades of development history, eToro has not only succeeded in building a CFD, cryptocurrency, and stock exchange but also is considered as a leading social trading platform. Currently, eToro is providing services to about 6 million users, an extremely convincing number to confirm eToro's position is really a reputable trading platform that is worth your consideration and choice.
What is eToro? The history of eToro
eToro was founded in 2007 with the desire to become a trading social network connecting traders together no matter where you are and who you are. In addition, right at the launching time, the goal of eToro is to reduce dependence on banks and traditional financial institutions. So eToro started out as an online trading platform that provides financial tools and visual charts. By 2009, eToro had launched its trading platform, WebTrader, with a range of professional tools for traders at all levels. And the whole system is linked together to create a social network or trading ecosystem that eToro has outlined since the day of its launch.
A big step forward for eToro when it launched OpenBook, the world's first social trading platform in 2011, with the CopyTrade feature that allows traders to copy orders from experienced traders. By 2012, the stock became one of the next trading products offered by the broker along with currency and commodities.
The eToro mobile app launched in 2013 for both Android and Apple, and eToro also added the Bitcoin cryptocurrency as the next product to be traded at the broker.
In the following years, eToro has actively expanded and improved not only the service quality but also the products, as well as promoting the social network so that when mentioning Copy Trade, traders will think of eToro first!
Basic information about eToro
Established year: 2007
Management license: CySEC (Cyprus), FCA
Minimum deposit: 200 USD
Withdrawal fee: $ 25
Minimum withdrawal: $ 50
Trading products: CFD, ETF, Forex, cryptocurrencies, stocks, commodities, indices
Leverage: 20: 1
Trading Software MT4: Not available
What make eToro differently from other brokers?
In fact, eToro is not just a forex broker in the minds of many. It is a social network that connects a lot of traders together through linked transactions such as copy trade. However, social trading platforms at eToro also have more features than many other forex platforms such as CopyPortheadsios, this is a long-term investment with a portfolio of investment management such as: products with top traders with a predefined strategy.
Certificates and operating licenses of eToro
eToro owns a number of different licenses from reputable financial management agencies such as CySEC, European Securities and Market Agency (ESMA), especially the financial management agency of United Kingdom (FCA) is equal to the investor's insurance up to € 20,000 (under license from CySEC) and £ 50,000 (under license from FCA). Helping investors feel secured when making transactions. In addition, according to the regulations of the European Securities and Exchange Authority (ESMA), eToro must follow the rules of protecting negative balances so that they cannot lose more than 100% of their account value in the event of market fluctuations or any other issues.
Trading accounts and products provided by eToro
eToro is primarily a CFD and forex broker. However, you can also trade with real stocks in custody form, not CFD as other reputable forex brokers provide you. In addition, eToro offers a variety of ETFs and cryptocurrencies. In particular, eToro also offers many other outstanding features such as social trading (Copy People) and Copy Portfolio.
eToro offers a wide range of CFD products for you to choose from such as forex currencies (47 pairs) of CFD (1300) stocks, Index CFD (13), ETF (82) cryptocurrencies (15).
Stocks and ETF
Stock is one of the strongest products of eToro. In addition to the CFD stockss offered in huge quantities up to hundreds of products on many different exchanges such as NYSE, New York Tech, Frankfurt, London, Paris, Madrid, Milan, Zurich, Oslo, Stockholm, Copenhagen, Helsinki and Hong Kong. eToro also has a policy of buying and selling real stocks, not the form of trading based on CFDs on other forex brokers, when you don't use leverage with 12 different stocks. Therefore, if you want to buy and sell real stocks in the US, eToro is a worthy trading platform for you to choose.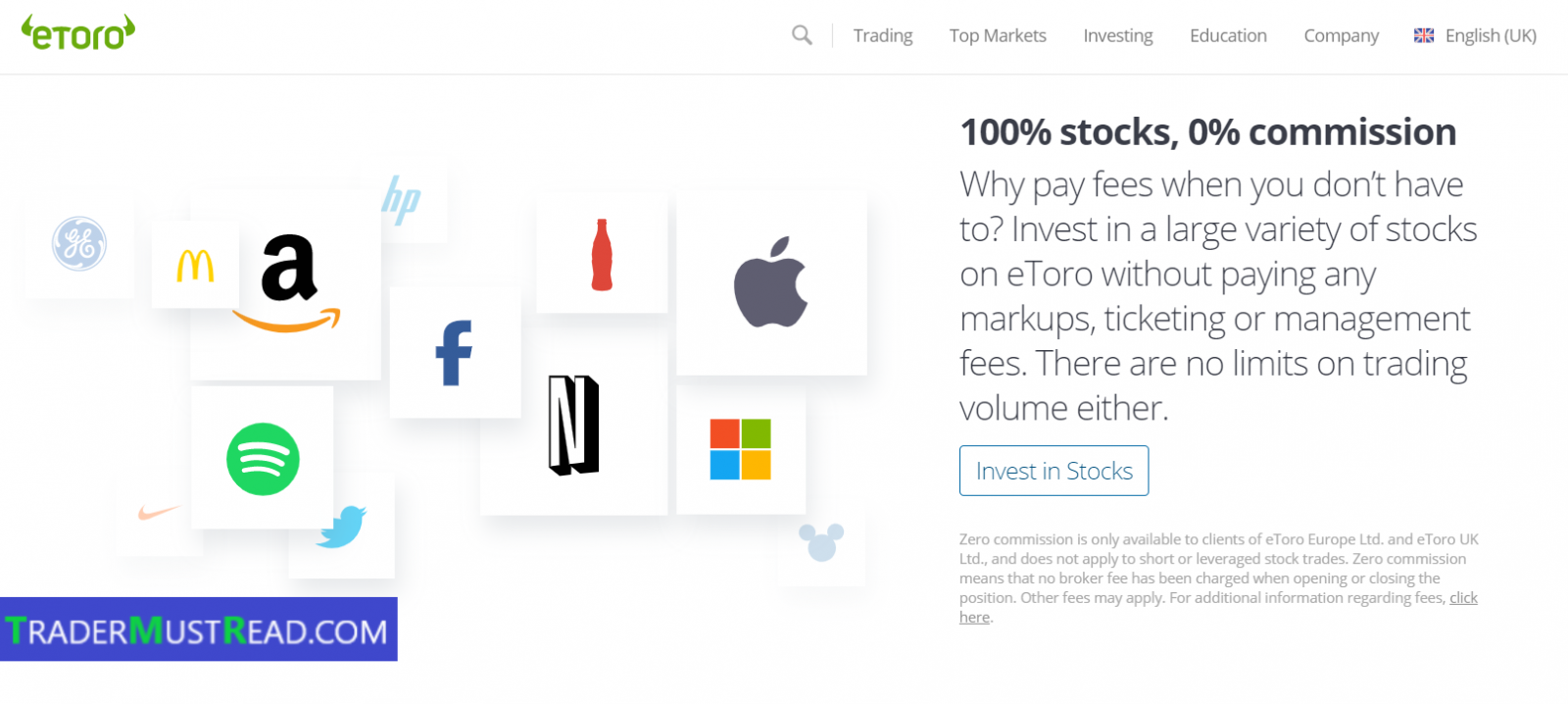 Cryptocurrencies
eToro is one of the platforms that allows cryptocurrency trading very early (2013) with 15 major currencies such as Bitcoin (BTC), Bitcoin Cash (BCH), Ethereum (ETH), Ripple (XRP), Litecoin ( LTC), Cardano (ADA), IOTA, TRON (TRX), ZCASH, BNB, Dash, Stellar, EOS, NEO, GRAM, XTZ, ZEC. Technically, when you go long in any cryptocurrency, you will own real money. When you go short, it's a CFD.
Leverage, commission and spread at eToro
In fact, the spread of eToro is as large as the EURUSD pair on other brokers below 1 pip but in eToro it is 3 pips and S&P 500 at 75.00 pips.
However, if you trade cryptocurrencies without using real leverage, stocks and ETFs that are not in CFD format with Buy positions, then you do not incur any fees. eToro only charges swap overnight for CFD products with leveraged products or for Sell orders. So if you trade stocks, stocks on this floor you will enjoy great incentives. This is a big plus because most other forex brokers have high fees, but at eToro it is almost free especially when you place a Buy order.
Trading Platforms at eToro
eToro has launched a mobile-specific trading application and a number of other applications such as CopyTrades and CopyPortfolio. Unfortunately, eToro doesn't include apps for MT4 software.
CopyTrades
CopyTrades is a form of copy trading similar to the forms of copytrade at other forex brokers. Because this is one of the strengths of eToro, it has designed a very friendly interface to help new traders to choose the best signal provider that suits them best.
eToro not only provides transaction data, the profits they earn by year and by month, but also many other statistics such as transactions per week, average order holding time, performance on charts and review on their news sources.
The minimum amount for you to join Copy Trades at eToro is 200 USD, maximum is 500,000 USD, especially you can copy 100 different service providers simultaneously.
CopyPortfolio
CopyPortfolio is actually an investment fund, not just a CFD investment. If Copy Trades is a way for you to copy orders from other traders, with CopyPortfolio you can invest in a specific portfolio or copy from traders on eToro.
Investing in portfolios means investing in a product of major banks or cryptocurrencies like Citi, Bank of America, HSBC and other banks.
CopyPortolio is built on eToro's algorithm where eToro groups traders into a single fund that you can copy trades. CopyPortoliios helps bridge the gap for investors who want to use eToro on a passive tool, because they can create a portfolio based entirely on one or more CopyPortoliios. On the other hand, self-directed traders can also use CopyPortoliios to diversify their trading, making it potentially useful to all eToro customers. In addition to the relatively high minimum deposit up to 5000 USD eToro also checks financial knowledge to see if CopyPortfolio is right for you.
Crypto instruments: In addition to trading manually on 93 cryptocurrency CFD pairs, users can find crypto trading ideas and copy other individual crypto traders, as well as Copy the trading group. For investors who want to trade basic crypto assets, eToroX offers eToro Mobile e-wallet application that acts as a supervisor using a multi-signature scheme, which comes with the mobile app. forex activities of the brand.
Copy trading quality: All traders on eToro trade manually. Automated trading systems are completely not allowed, which means that when you copy other traders, you can be sure they are placing each trade manually. This is useful to know as many other social trading platforms aggregate the performance of traders who usually allow both (manual) trading as well as automated strategies, while the eToro network rushes only including manual trades.
Deposits and withdrawal at eToro
eToro offers many different forms of money transfer for you to choose such as: transfer via domestic banks, Visa, MasterCard, NETELLER, PayPal, Yandex, Webmoney UK, Skrill and other services.
You should note, eToro has a high withdrawal fee of up to 25 USD with a minimum withdrawal of 50 USD. In addition, if your account has no transaction after 12 months, you will be deducted 10 USD per month! Therefore, please consider when depositing into eToro or have to withdraw all money if you do not plan to trade with it anymore
Pros and Cons summary at eToro
Pros
Free of stock trading and ETF
There are many social trading platforms
Real stock transactions
Rich transaction products
Support many convenient recharge port for Vietnamese including Paypal
Cons
High minimum deposit: 200 USD
Withdrawal fee is too high: 25 USD
Many service charges: such as maintenance fees after 12 months.
There is no application for MT4 software
Low leverage
If you want to open an account at eToro, please click on the below: