As usual, we will continue to review on FBS, like many other reputable forex broker reviews we have done. If you are interested in FBS, please read the article series, which provide much details on many of its aspects, to see if FBS is worth for your choise when trading.
FBS is probably the most suitable trading platform for new traders, among the reputable forex brokers. Also, FBS has many good marketing campaigns which we are sure that you may see one of its advertisement.. In addition to extremely strong spending on advertising, FBS always focuses on product development, polocies, and strategies to reach new traders. And also thanks to continuous marketing efforts, FBS has helped attract a large number of investors trading here.
Overview about FBS
In fact, all the reputable forex brokers we have reviewed, are long-established, at least 10 years or more. And FBS is not exceptional, established in 2009, now has 11 years of experience in the financial market.
One of the very wise steps of FBS is that in every country it is operating, there is a separate website designed for that specific country, which make FBS different from the rest of the forex brokers, usually use IP address to automatically switch to language mode of that country. Currently, FBS owns more than 19 different websites. Perhaps because of that, right at the first time we visited FBS, I created a feeling of friendliness, closeness and trust for us, and we think also for each trader, so that's many traders trusted to choose FBS to become their broker.
As a result, FBS has achieved remarkable achievements such as serving more than 14 million traders from 190 countries in the world; 7000 accounts are created every day. Even, FBS has a loyal trader base of up to 80%, a really huge number that any forex broker wants!
Basic information about FBS
• Year of establishment: 2009
• Minimum deposit: 1USD
• Maximum leverage: 1: 3000
• Number of accounts provided: 5 types of accounts including Cent account, Micro account, Standard account, Zero Spread account and ECN account.
• Social network transaction: Copy Trade
• Deposit method: Credit Card, Neteller, Skrill, Perfect Money, Internet Banking
• FBS offers: Forex currency; Metals, CFDs, Stocks
• FBS trading software supports: MT4, MT5 and FBS Trader
• Compatible operating systems: Windows and Mac desktop platforms, MT4 and MT5 compatible web platforms, Android and iOS
Operating license of FBS
FBS is currently under the control of the International Financial Services Commission (IFSC, registered under 119717) and CySEC (per 353534).
To be fair, the FBS license is not really as strong as many other forex brokers like ICMarkets, XM or XTB (XTB owns 12 licenses from various reputable financial management agencies such as CySEC, FCA , BaFIN, CNMV, IFSC ...). However, with the license from CySEC, we can somewhat see FBS' efforts in improving the service to bring the best quality to traders.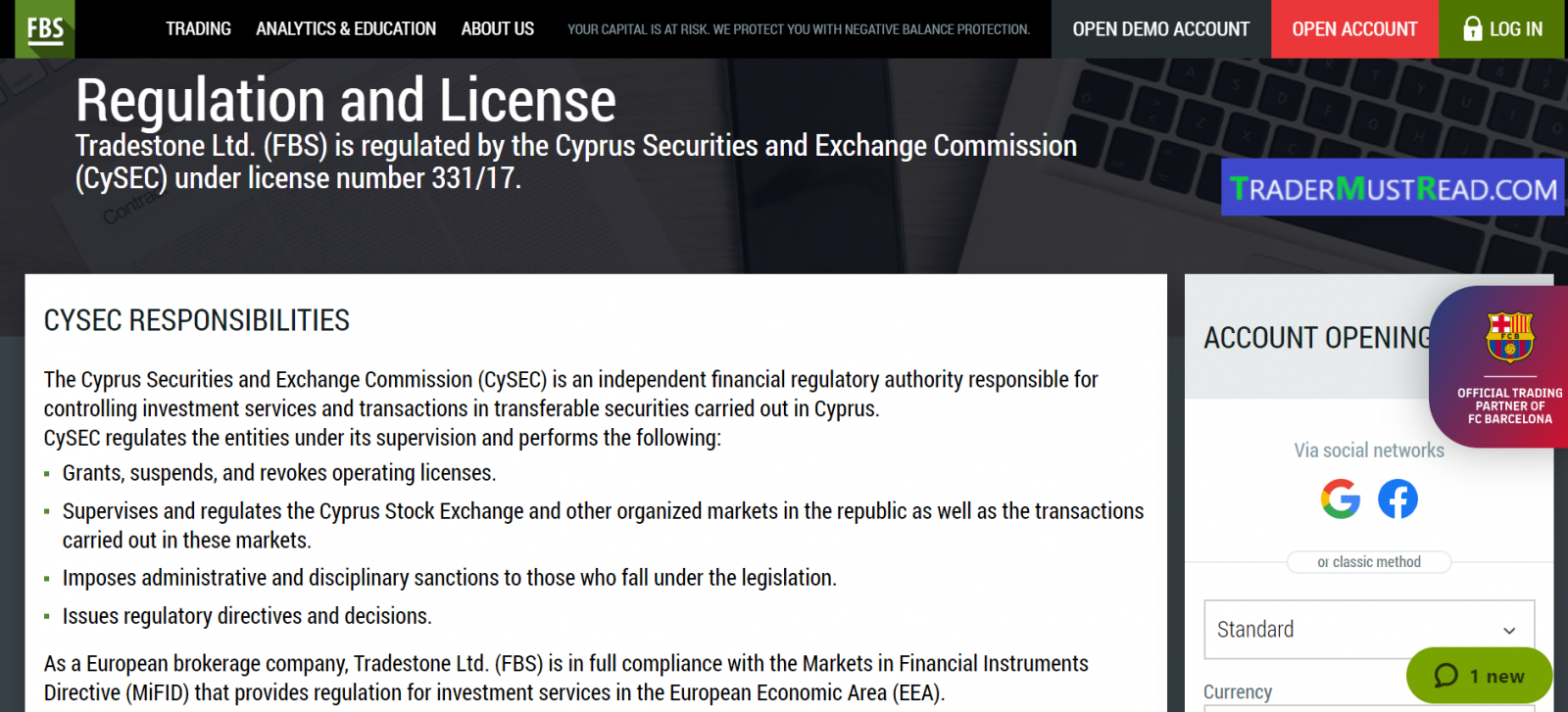 What is the meaning of CySEC license to FBS as well as traders?
Compared to some other authorities, CySEC is relatively active in checking forex trading broker as well as informing traders about suspicious activities from the broker. It is worth noting that CySEC follows all the principles set by the MiFID (Directive on Market Financial Instruments) when Cyprus became a member of the EU in 2004. So in the case of forex broker, managed by CySEC, becomes bankruptcy, all traders will be insured by the Investment Compensation Fund up to € 20,000.
In addition, CySEC also has some standards that any forex broker must follow if it is managed by this agency:
Forex in general and FBS in particular, under the control of CySEC, must have a minimum capital of EUR 750,000 to maintain the operation of the

broker

to ensure the

broker

has enough capital in any case to perform fully

all

contractual obligations arising in transactions from

trad

ers.

CySEC requires all forex brokers to submit independent audited financial statements to this agency for review.

Must be a member of the Investor Compensation Program (ICFS) program to protect investors if the market goes bankrupt and cannot fulfill its contractual obligations with insurance amount up to 20,000 EUR.

Must list all products and services provided to the trader.
Must have a separate account. This is a very important factor that not only proves that the broker has strong financial capacity but also shows that the broker will not abuse traders' money for other things.
Thus, with the above requirements, it can be seen that even if only 2 licenses are owned, but with the guarantee from CySEC, it helps the trader feel secure to trade at FBS.
One more point that's worth mentioning, CySEC has only licensed for FBS since August 2017, while FBS was established in 2009, which shows that FBS has been really trying to improve and expand the market to provide the best services to traders. Therefore, given all that FBS has built, it is likely that in the near future, FBS will continue to be licensed by other reputable agencies such as FCA or BaFIN.
In addition to FBS, there are many other forex brokers under the control of CySEC, if you are interested in which one you can refer to the full information here.
If you want to open an account with FBS, please click on the below:
 OPEN YOUR ACCOUNT HERE