We all know that forex trading consists of risk, especially this moment as lots of brokers are present in the market, which make more difficult for traders to justify the credits of the brokers, and their transparency if not really licensed by any authorized financial organization. In such case, we have to learn carefully about brokers to make the right choice, it is good for us, and good for brokers as well if you have good trading experience with them.
Therefore, most of traders will choose the brokers who has the physical office and address. If you base on this criteria, we think Hot Forex is the right choice as it has physical office in many regions and countries. If it does not have physical office in your country, it is still very trustworthy as it is already present in many, it is just about time when it is in your country. Now let's together find the reason why we should trade with HotForex.
An overview about HotForex
HotForex is part of HF Markets Group, established in 2010. Its headquarters in Cyprus, with a number of global offices located in Dubai, South Africa, and a multitude of licenses from various highly graded financial organizations around the world. HotForex currently offers 17 trading instruments, more than 150 products from Indices, Metals, Energy, Stocks, Commodities, Bonds to cryptocurrencies.
Throughout 10 years of operation, HotForex is providing customer service in 27 languages - an impressive number, allowing traders everywhere in the world to participate, as well as rreceive support of HotForex account management team. According to the information provided by HotForex, it has more than 2 million trading accounts opened, received over 35 awards and many different acchievments. We do believe this is a recognition for the effort that HotForex has tried during over years.
Some basic information about HotForex
• Year of establishment: 2010
• Minimum deposit: $ 5
• Maximum leverage: 1: 1000
• Social network transactions: PAMM and RAMM funds
• Deposit method: Credit Card, Neteller, Skrill, Internet Banking, Bitcoin, Bank amount
• Trading products HotForex provides: Currency, cryptocurrencies, metals, energy, CFD stocks, ETFs
• HotForex trading softwares: MT4, MT5 and HF App
• Compatible operating systems: Windows and Mac desktop platforms, Web platforms, Android and iOS
Operating license HotForex
Thanks to its worldwide operation, it is not difficult to understand why HotForex owns up to 7 licenses from many different agencies, an impressive figure close to the number of existing licenses that XTB has, that we highly recommend:
• HF Markets (Europe) Ltd - issued by CySEC (Cyprus) under registration number 183/12
• HF Markets (UK) Limited - issued by FCA (UK) under registration number 801701
• HF Markets (DIFC) Ltd - issued by DFSA (Dubai) under registration number F004885
• HF Markets (SV) Ltd - issued by FSA SVG under registration number 22747 IBC 2015
• HF Markets (SV) Ltd - issued by FSC (Mauritius) under registration number C110008214
• HF Markets SA (PTY) Ltd - issued by FSCA (South Africa) under registration number 46632
• HF Markets (Seychelles) Ltd - issued by FSA (Seychelles) under registration number SD015
Looking at the number of licenses above, it can be seen that HotForex owns many valuable licenses such as FCA or CySEC.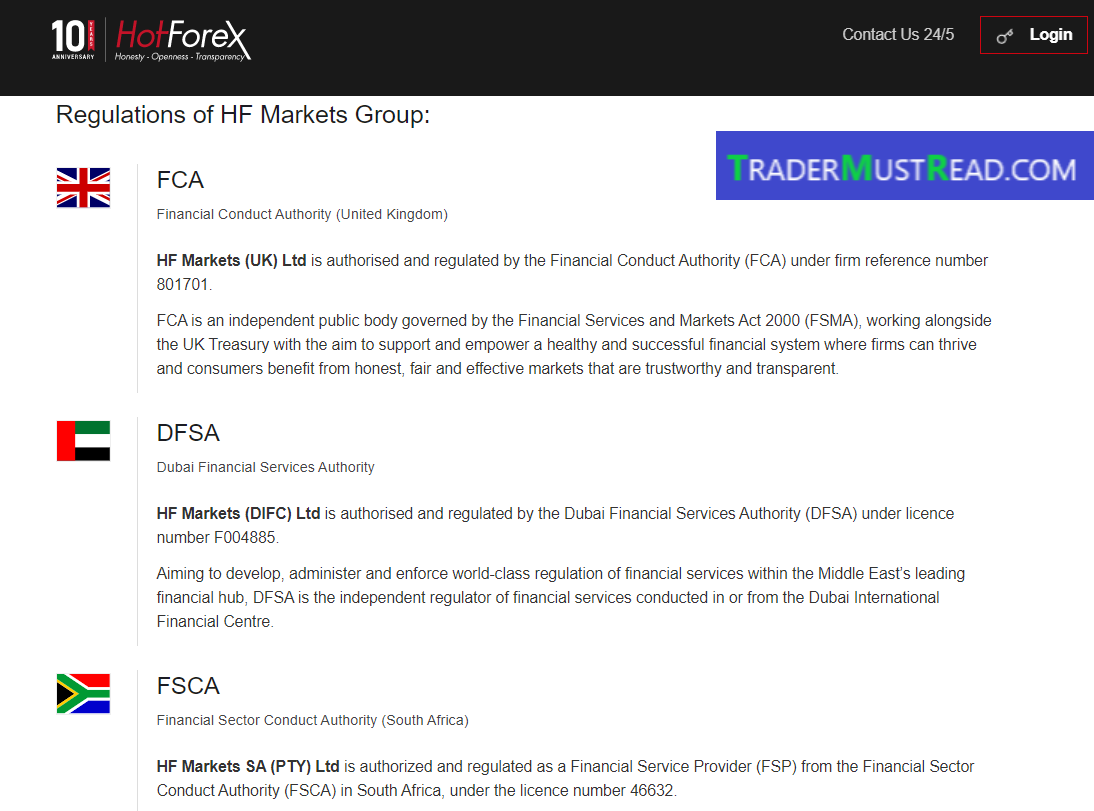 In a lot of reviews we always recommend you choose a reputable forex broker to trade. If brokers want to be licensed, brokers are required to comply with certain regulations, or at least the brokers must operate based on a number of principles set by the financial institutions themselves. So this will ensure the quality and reputation which ultimately help traders get peace of mind when trading.
So, in order to get those licenses, what does HotForex need to comply?
1. Minimum capital of at least 750,000 EURO as regulated by CySEC
This is a mandatory requirement to ensure the broker has enough capital to pay for traders' activities. In general, forex trading is essentially an investment activity, everyone wants his investment to  be profitable, subsequently there are mandatory withdrawals to his spending at his own.
So, if forex trading is profitable but cannot be withdrawn, because the broker does not have liquidity, or is too slow, or the service is poor, then this transaction really does not make sense at all, and of course no one wants to trade with that broker. Therefore, considering the financial capacity of a forex broker is also an important criteria to decide whether to invest with it or not.
2. Must have a separate account
This requirement will ensure that the brokers do not use deposits to do anything else, even place orders against customers, something that is often seen in untrustworthy brokers . On the homepage, HotForex also announces the guaranty for customer deposits at one of the leading banks in the world.
3. Having insurance mechanism in case the broker faces with bankruptcy
With the license from CySEC, HotForex will be under the control of EU financial authorities, so HotForex is forced to comply with the Financial Instruments Directive 2014/65 / EU or MiFID II and the Anti-Money Laundering Directive from the EU, to protect traders following the Investor Compensation Fund (CIF) with a maximum insurance of 20,000 €.
In addition to the compulsory insurance mechanism mentioned above, HotForex also shows its prestige and responsibility to traders and other third parties through the Civil Liability insurance program of up to 5,000,000 Euro,  including "The market leading insurance for mistakes, omissions, negligence, fraud and many other risks that may lead to financial losses."
Thus, when trading at HotForex, a trader was not only guaranteed by the maximum insurance amount of 20,000 EUR, according to the laws of CySEC. He also enjoys a civil insurance program, worth 5 million EURO, signed by HotForex with Renaissance Insurance Brokers, an insurance company specializing in providing services to brokers based in Cyprus.
HotForex is currently using 3rd party auditors (Deloitte) to publicize and make the entire bookkeeping transparent. This is also one of the requirements from CySEC, forcing brokers to regularly submit reports to the agency to consider whether the broker has complied with the regulations.
Also because of such stringent requirements, the more licenses the broker has from top financial authorized organization, the more it proves its reputation. We do believe this is considered as a minimum guaranty for traders to secure their tradings.
If you want to open an account with HotForex, please click on the below: