Leverage, Commission at HotForex
The highest leverage at HotForex will be 1: 1000. However, depending on the account type and HotForex trading product, there will be different levels of leverage. If you want to enjoy 1: 1000 leverage, you must use the Micro account type, otherwise, you just can get the maximum leverage at 1: 500 only. Leverage is specified by HotForex as follows: 
• Forex currency pairs with maximum leverage of 1: 1000
• Metals and energy: Brent oil has maximum leverage at1:66; Silver's maximum leverage of 1: 100; Gold's maximum leverage 1: 200
• Maximum leverage of indices: 1:50
• Maximum leverage of stocks: 1:14
• Maximum leverage of goods HotForex offers: 1:20 (with Palladium), Cocoa 1:66, Cotton 1: 66
• Cryptocurrency has leverage up to 1:10, except for XRPUSD leverage up to 1: 5
• Maximum leverage of bond: 1:50
 
Commission fee of HotForex is set at 6 USD / lot / 2 ways for forex currency pairs. For the remaining product, the fee will be about 8 USD / lot / 2 ways. In addition, only Zero Spread and HotForex PAMM Premium Plus accounts ($ 10 / lot / 2-way) will be charged, the rest will be commission free.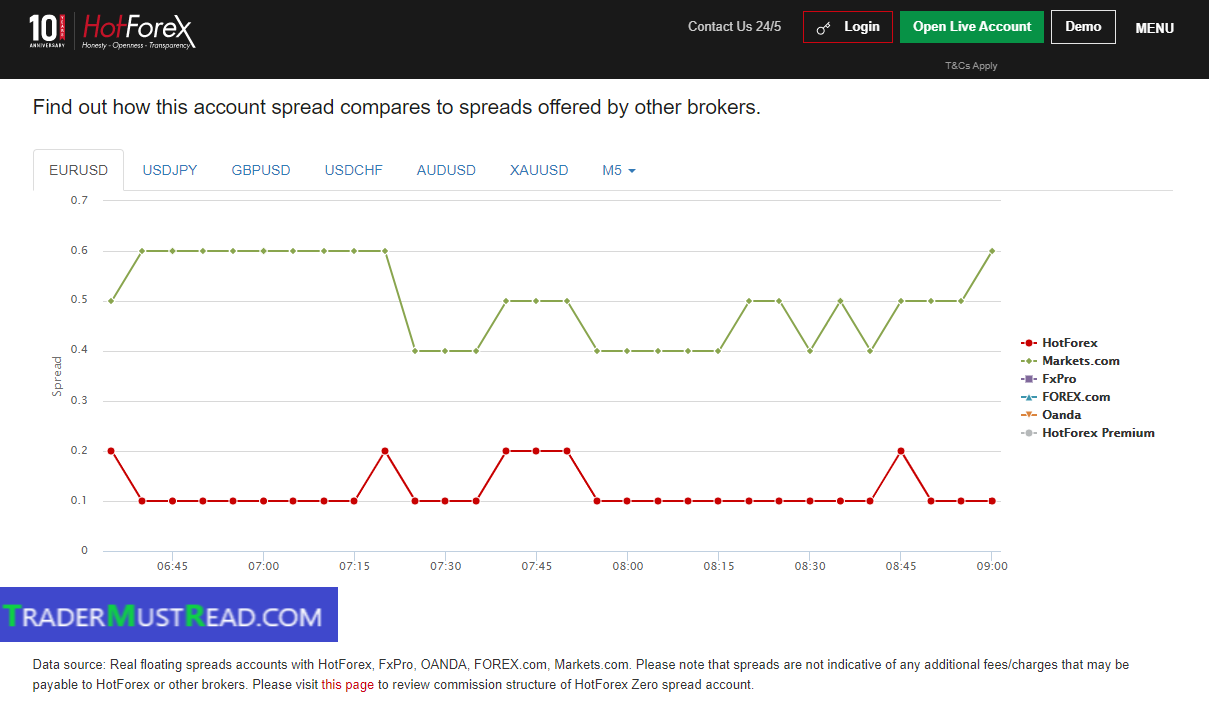 Deposit and withdrawn at HotForex
HotForex supports many different forms of deposit for traders such as Internet Banking, Visa, Skrill, Neteller. Currently, HotForex is applying the automatic e-wallet withdrawal mechanism, so the withdrawal at HotForex is quite fast, the withdrawal time is about 1 day the you can get your money in your account.
In addition, HotForex is probably the only broker who can provide free charge when you deposit and withdraw with a Visa card. You can notice that most of the brokers usually say they support free when you deposit and withdraw by a Visa card. But actually not so, the broker may not charge, but in fact you still have to pay a few percent deposit fee, collected by the intermediary bank.
 
For HotForex, if you have to pay any fee when you deposit money, you can send them an invoice to get a refund. Do not underestimate this amount, if you deposit $ 10,000, you will lose about 300-400 USD fee, it is not a small amount.
Customer service at HotForex
Customer support is an important factor you need to consider when deciding which forex broker you will choose. Because no one is sure what happens during a transaction. Therefore, if you meet the support service staff who is lacking of enthusiasm, you can just take time and get frustrated. HotForex is wellknown for having one of the best support, they usually support 24/5 via phone, email, online chat, Skype. 
Pros & Cons summary for HotForex
Pros
Minimum low deposit requirements

Wide selection of trading accounts

More supports and discounts for new traders

Many bonus and the value of bonus is pretty high
Cons
Leverage for commodity products and cryptocurrencies is quite low.
If you want to create an account, please click on the below: