Among the reputable forex brokers, ICMarkets is probably one of the most popular no matter whether traders is working with ICMarkets or not. So when it comes to ICMarkets, most traders have positive feedback, thanks to the reputation and professionalism that IC Markets has built over the years.
We think not only us, but also some review sites like Forex Peace Army also has many positive feedbacks about IC Markets. So, it is not difficult to understand because ICMarkets is chosen by experience traders. But you may wonder ICMarkets is really a reputable forex broker to accompany on your training journey? Let's find out in our series of articles to view IC Markets. Let's get started.
The history of ICMarkets
The ICMarkets exchange was established in Sydney, Australia in 2007 by "a group of experts in the financial sector, who have contributed to the success of one of the major Forex and CFD service providers in Australia. "
According to the introduction from the website itself, ICMarkets was established with the desire to help retail customers (traders like us or you) be connected to liquidity organizations, investment banks to have access to pricing and direct liquidity, which previously only had investment banks and high net-worth individuals.
Because of 13 years of operation in the financial sector, according to Wikipedia, ICMarkets has an average daily trading volume of 19.4 billion USD, bringing the total monthly volume to 447 billion USD, up 30% compared to with the report in August 2017. That has helped ICMarkets become the forex broker having the largest trading volume today.
Basic information about ICMarkets:
Established year: 2007

Minimum deposit: 200 USD

Maximum leverage: 1: 500

Deposit method: Credit Card, Neteller, Skrill, Paypal, Internet Banking

Products provided by ICMarkets: Forex currency; Goods; Indices; Bonds; Crytocurrency; Stocks; Futures

ICMarkets trading software: MT4, MT5 and cTrader

Compatible operating systems: Windows and Mac desktop platforms, Web platforms compatible with MT4 and MT5, Android and iOS
ICMarkets operating license
Currently, ICMarkets owns 3 licenses: ASIC (ACN 123 289 109); CySEC (362/18) and FSA (SD018).
Compared to many other countries, Australia is probably the market where there are many reputable forex brokers having competitive high quality today. In addition to ICMarkets, traders may probably be familiar with some brokers from Australia such as Pepperstone, ThinkMarkets, Tickmill or Axitrader ...
This is because there is ASIC, the very well-known security and investment market watchdog, which not only manages forex brokers, but also manages the Australian stock exchange.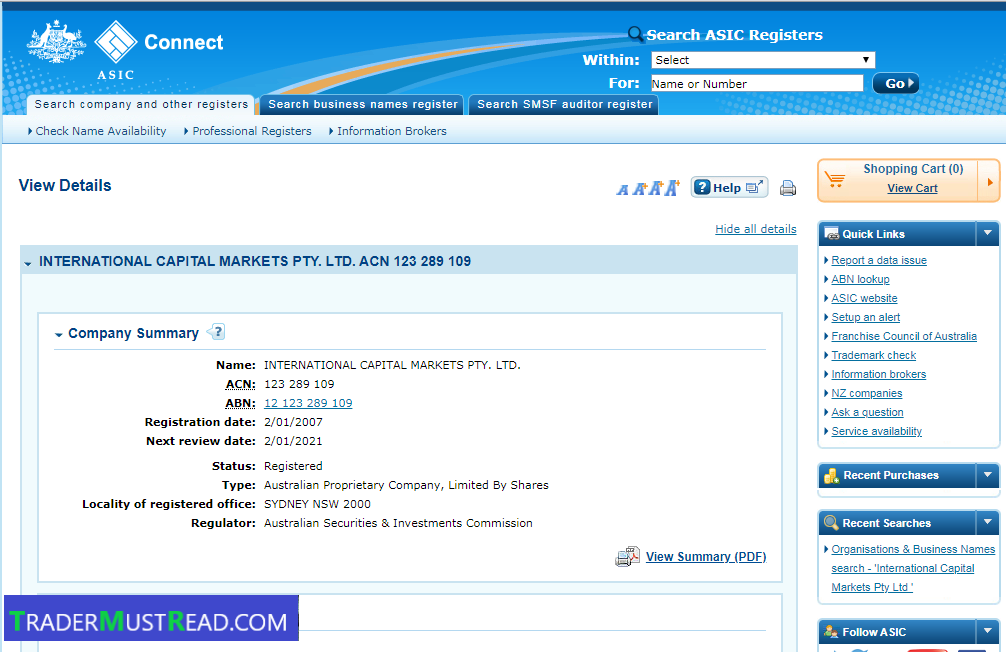 You can refer to the operating license of ICMarkets provided by ASIC here.
Because of important role in the Australian financial market, any forex broker is licensed by ASIC, would be trustworthy and quality assured for traders to work with. According to the Australian laws, in order to be licensed by ASIC, both forex brokers and ICmarkets are required to meet the following criteria:
The minimum capital for a broker operating "under the control" of ASIC is 1 million USD.

A segregated account mechanism is required.

An AFC (Australian Financial Securities License) certificate is required, which helps brokers be allowed to trade in the registered area. In addition, when owning this license means that the forex broker must also meet the full capitalization; Be a member of a complaint body to protect the broker and its traders from unnecessary risks; or when a conflict arises, it must seek solutions and at the same time make reasonable compensation arrangements.

Must be a member of the Australian Financial Complaint Agency (AFCA), which is a dispute resolution agency between customers and service providers.
As such, ICMarkets is under the management of ASIC, so ICMarkets also fully has satisfied the above requirements. So what do these factors say?
With a capital of at least USD 1 million, it shows that ICMarkets will have enough financial capacity, good liquidity to pay customers in cases. This is extremely important, because traders who come to forex in the end are just making money, if ICMarkets does not have liquidity, makes it difficult for traders, or withdraws and deposits takes too much time, then forex trading really doesn't make sense.

In addition, with the requirement that Segregated account or separate account means ICMarkets is required to have 2 types of accounts: 1 type only used to hold traders' deposits, this account is completely independent of the account of ICMarkets trading platform.
This will help avoid the risk when the forex broker goes bankrupt, the traders can still receive statutory compensation. In particular, the fact that the floor has 2 separate accounts also shows that the company's capital is often quite large (For example, Exness' capital is always 4 times larger than traders deposit). This is also one of the very important criteria to help traders choose a reputable forex broker to trade.
Currently, the separate account of ICMarkets is being managed at 2 leading AA-rated banks in Australia: Westpac Bank and National Bank of Australia (NAB) for the license provided by ASIC, and Barclays Bank for the license provided by FSA. The reason why ICMarkets put money at these 3 banks is because ICMarkets also wants to minimize risks for traders, it doesnt want to deposit money at a certain bank.
Because of being a member of the Australian Financial Complaints Agency (AFCA), an independent dispute resolution agency, so if the trader and ICMarkets have a dispute and can't reach a mutual solution, you can contact the AFCA directly so that they can arbitrate and protect the rights of each side. You can find out more information about AFCA here.
Thus, with the aforementioned criteria, it can be seen that ASIC or ICMarkets will maximum protect investors when disputes or problems arise. If the broker and the trader cannot resolve, these agencies will partly help traders to protect their rights.
Not only that, ICMarkets is also under the control of CySEC, this financial management agency, will be responsible for protecting traders, when the broker faces with default or bankruptcy, there will be a compensation of up to 20,000 EUR as committed from ICF (Investment compensation fund).
In addition, due to the management of two leading agencies such as ASIC or CySEC, ICMarkets also has to meet a number of requirements such as: having an independent auditor to ensure the transparency of its financial reports, or not to violate the regulations or deceiving traders. Because if it happens, it is very easy for these agencies to deprive their operating licenses, something that no forex broker wants. For that reason, you absolutely can feel secure when trading at ICMarkets.
If you want to open an account, please click on the below:
CREATE YOUR ACCOUNT