Let's start the review to take a look at what you have known about XM during your trading journey? When we compare XM with one of the other key broker? That other could be FBS, when we see a lots of campaign from that broker in 2018, you probaly saw somewhere FBS's campaign about bonus of 50 USD. Then in 2019, we could consider 2019 as a year of XM with a campaign to bonus 30 USD. It was a year long campaign until this time when we are writing this review article.
That is why XM can be considered as one of the most popular brokers to traders. XM had various marketing campaigns to gain awareness of traders across the globe. Followng our observation, XM gobal and regaional leaders also went to 120 cities to meet local traders and potential partners before the COVID-19 is getting worse globally. So a combination of high standard service and good communication campaigns help XM gain positive attention of traders. This article is for you, you may already know about XM and just want to confirm before working with XM.
The history of XM
XM was launched in 2009, controlled by Trading Point Holdings Ltd. Its offically licensed by CYTEC – the legally licensed ayuthoriy, in coordination with European Union to ensure brokers in compliance with anti-money laundering and transaprency policy.
Current, XM has hore than 2.5 M active traders, across 196 countries, support in 30 languages, 16 trading softwares and 25 payment methods, backed behind with 450 experts who have rich experience in financial services.
XM provides traders with different products, besides Forex, it also provieds CFD, indices, commodity, stocks, metals and energies. All is very transparent, including commision fee, spread, no hidden fee, and all trading executions are proceeded super fast, in last than 1 second.  Therefore, XM is attracting many Japanees who are usually known strictest, high demanding in terms of service provision. They are really into XM and are choosing XM as their partner for the trading journey.
Basic information about XM
Established year: 2009

XM is licensed and regulated by: CySEC, ASIC (Australia) and IFSC (Belize)

Minimal deposit: 5 USD

XM portfolio: Forex, stocks, indecies, commodity, metals, energies.chứng khoán, chỉ số, hàng hóa, kim loại quý, năng lượng

Maximal leverage: 1:888

Trading platforms: MetaTrader 4, MetaTrader 5, Web Trader, operating system is compatible with iOS and Android
XM's License
In the article "Basic Knowledge about Forex Trading", we already metion that traders must find the brokers who are licensed, to partner in their trading journey.
You may know that in forex market, there would be 2 types brokers: the first group is operating unoffically, they are not licensed and controlled by any trustworthy orginization; the 2nd group is licensed and regulated by at least 1 financial organization. Every financial organization will have its own regulation, policy to ensure transparency and traders protection, so the more well-known that organization is, the more qualities it requires brokers to comply, and so traders can be assured to work with.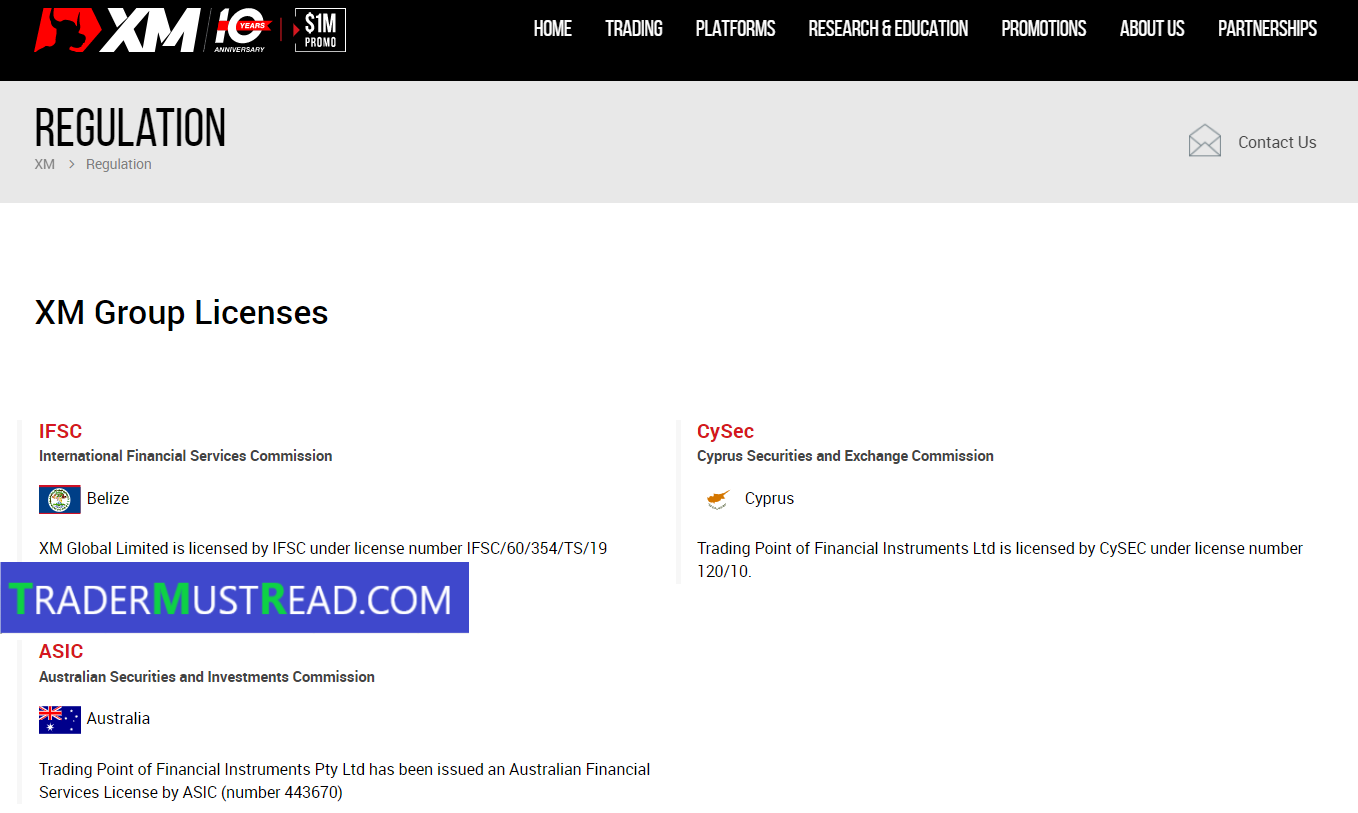 So, please ensure to check the license of your broker before creating a trading account. There should be a well-known and trustworthy financial organization to control your broker. You may already know that there are some illegal brokers who were trying to make fake license. So to ensure, you can go to the websites of the financial organizations to check. They could be FCA, NFA, ASIC, BaFIN…
To XM, we considered this is a very credential broker which is licensed by many well-known financial organizations:
CySEC

 (Cyprus Securities and Exchange Commission)

at

Cyprus

, license no.:

120/10.

ASIC (Australian Securities and Investments Commission)

at Australia, license no.:

443670.

IFSC

 (International Financial Services Commission)

license no.:

IFSC/60/354/TS/18.
So how XM will ensure traders' benefits after getting these well-known organizations' endorsement.
Firstly, it is a separate account to save traders' deposit, to ensure EX also have enough financial ability for traders' transaction liquidity.
Because XM is licensed by ASIC, 1 of the top financial management centers, is also the one to manage Australian securities broker now.  Therefore, ASIC has lots of strict requirements to ensure financial security under a Segregated Account. Following that, the broker has to have 2 accounts in which there is one just for holding deposits from traders, that is complete different with the one for brokers' usual operation.
This will protect traders' deposits, avoid any risk when brokers use traders' deposit for other purposes, even when brokers use to proceed a reverse execution with traders'.
Because of this, traders' deposit will be always protected, and will not be impacted even when XM faces with bad financial issue or crisis. Remember this is one of the important facts when you choose your forex brokers.
Secondly, XM has insurance in case of bankruptcy.
Holding the license from CySEC, XM will be controlled by a financial management organization of EU, so XM must follow the Degree of Financial Tool 2014/65 / EU or MiFID II and the Degree of Anti-Money Laundering of EU, to protect traders following Compensation for Investor Fund (CIF) with the maximal insurance of 20.000 €.
Thirdly, the broker has to have a fund at least 750.000 € (according to CySEC's policy) or 1 Mil USD (According to ASIC regulation).
Currently, XM is operated by XM Global Limited, this is also the company ensuring trader's money, following current policy and regulation. Besides, XM is licensed to be a broker, can provide stock brokerage, so it must meet strict requirements in terms of finance. One of them is to maintain enough cash flow to ensure traders' withdrawals, or in any cases of issues with company transactions. And any other fees which may occur. Furthermore, an independent audit partner will have yearly audit to ensure transparency of its financial reports.
Because there are lots of requirements as mentioned above, so the more licensed a broker has, the better its financial capacity is, the more credential it is and the more benefits the traders would have.
Therefore, we strongly believe that you can open an account and trade with XM. It is simple because they will always act and protect what they have difficultly achieved for years.
If you want to open a XM account, please go to the link below: