XM trading platforms
One of the outstanding advantages of XM is that it provides both trading platforms: MT4 and MT5 with lots of options: compatible with operating systems Window and Mac OS, Webtrader. Especially, XM also developed to ensure MT4 và MT5 to be compatible with iPad, iPhone, as well as Android, Android Tablet.
MT4 Software provided by XM
MT4 is the most popular trading software that every broker is using now. It is due to friendly interface, easy use, automatic trading support by allowing traders input awaiting executions and let robot do executions. To most of traders, MT4 is really the first and foremost choice when it comes to forex trading or CFD.
You can refer more about XM here
Main function of MT4 from XM
Integrated more than 1000 products including Forex, CFDs.

Synchorized with 8 different trading platforms.

Spread from only 0,6 pip

Technical analysis with more than 50 indicators and chart tools.

Provide 3 charts (Line, Bar/Columns and candle).

Allow for hedging (reverse positions, direction with the one you just made)

Allow EA, available indicator and editable.

Set up editable indicators and different timeframe cycles

Ensure to fully save and data protection.

​
MT5 provided by XM
MT5 is upgraded from MT4, developed by Metaquotes. MT5 allows traders to make different executions including forex, CFD, stocks, indices, precious metals, energies and commodity. Also, MT5 has many more optimized functions. They included upgraded chart tools, automatic trading flexibility as well as different trading market such as stock market.
Especially, besides 4 traditional executions: buy limit, buy stop, sell limit, sell stop, MT5 also have 2 more waiting executions including buy stop limit and sell stop limit, these will help traders get more chances of profit gain. At the same time, XM is now using MQL5 for MT5, that allows traders set up automatic trading robot, as well as personalized indicators that suits with individual trading style.
You can refer more about XM here
Besides, MT5 still has an outstanding advantage compared to MT4, that MT5 also allows CFD stocks. So if any trader wants to join this market, you need to open account using MT5 soon.
MT5 functions provide by XM
Allow to trade more than 1000 products, including CFD stocks, CFD stock indices, forex, CFD precious metals and CFD energies.

Synced trading with 7 software.

Spread from only 0,6 pip

Provide more than 80 technical analysis.

High level of latest market analysis.

Can show up to 100 charts at the same time.

Support multiple executions: buy limit, buy stop, sell limit, sell stop, buy stop limit, sell stop limit, stop và trailing stop.
If you want Hedging, XM is designed for you.
Hedging is a term to talk about the execution of symmetry trading: buy and sell at the same time. However, we highly recommend new traders should follow the trend to minimize the risk.
Currently, XM is considered the best broker for hedging. It has an execution called "Close by", allow traders to close to 2 reverse executions of the same product at once. It will help traders to save a spread. However, you need to be aware that 2 executions have to be closed at the same time, for example, the buy to be closed together with the sell, and vice versa, the sell to be closed together with the buy, in only such cases, you can use "close by".
Besides "close by", XM can also provide another execution, compatible with both MT4 and MT5, that is "Multiple close by", allows traders close multiple reverse executions at the same time. For example, you have 2 symmetry execution, you can use "Multiple close by" to close all the execution and save the spread for others compared to when you use multiple normal executions.
MT4 Multiterminal, provided by XM
Multiterminal is an app for traders who want to manage multiple MT4 accounts from 1 software and by 1 login and 1 password. It has main functions as below:
Support up to 128 trading accounts.

Support multiple order types

3 allocation methods.

Management and execution in real time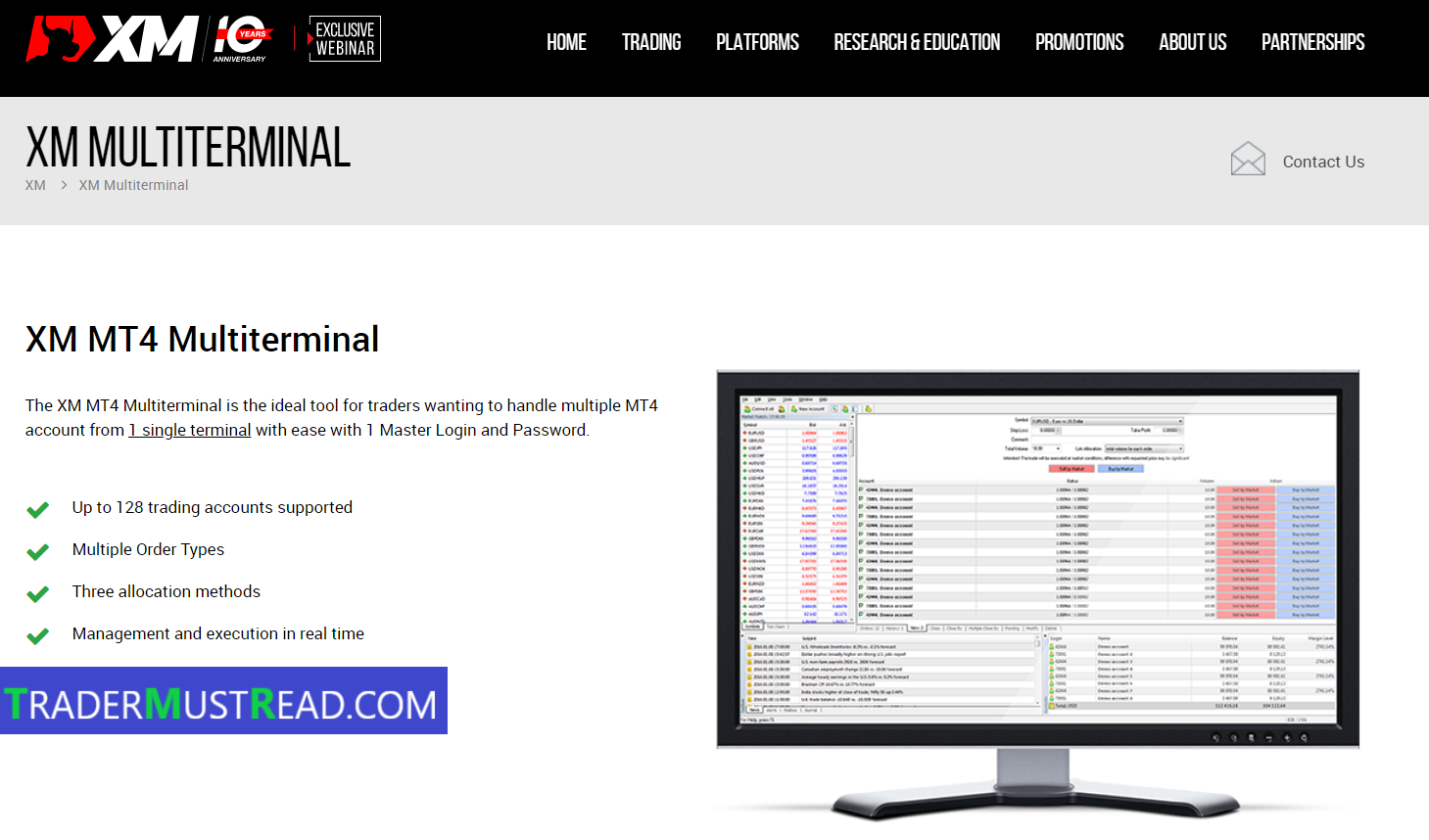 You can refer more about XM here
If you want to open a XM account, please click on the below: