What trading services are provided by XM?
XM is currently providing many different trading services, with up to  1000, so very diversified that could meet any demand of traders. Just one not that XM is now no longer providing cryptocurrency trading any more. If you want to trade cryptocurrency, you can refer to some credible brokers like Exness or XTB.
Forex trading: including 57 major currency pairs

crosses and exotics

Stocks CFD: 1184

Share: 100 different types, trading on Share account

Commodities: 8 including Coffee, Wheat, Sugar, Corn, Cocoa.

Equity Indices: 30

Precious Metals: 4 including Gold, Silver, Plantinum and Palladium

Energy:  4 including Brent Oild, WTI Oil, NGAS, London Gas Oil (GSOIL)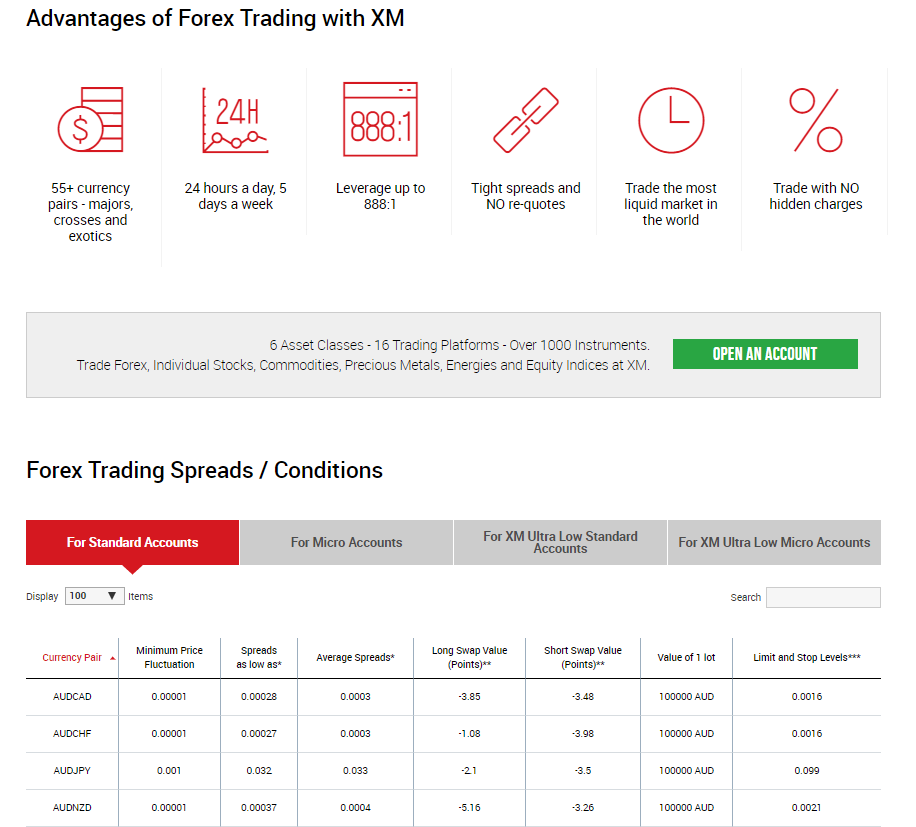 Basically, XM can provide many trading services for you to choose. Especially, both stocks and shares can still be paid as dividend as usual, following the yearly calendar given in the product information page.
Certainly, its trading nature is CFD so you don't have rejection right, raising feedback as when you trading stock and shares as usual. But being paid dividend could be consider as an advantage of XM, help it become more competitive than other forex brokers, which only provide stock indices as a CFD, similar to forex trading or gold, or silver.
How do we rate XM on spread, commission and leverage?
Spread at XM
In fact, we could say that spread at XM is considered high, especially for Micro and Standard, spanning from 1.6 pip -2.6pip. for now, XM has proposed Ultra Low account with very low spread , just from 0.6 pip, don't charge any commission or any underlying charges, so very suitable for those who prefer scalping.
Leverage at XM
XM is providing maximum leverage at 1:888, note that no leverage applied for Share account. For the rest of 3 accounts, leverage will lower gradually according to traders' deposit. Specifically as below:
If you deposit from 5 USD to 20.000 USD, maximum leverage 1: 888 is applied.
If you deposit from 20.001 USD to 100.000 USD, maximum leverage 1: 200 is applied.
If you deposit higher than 100.001 USD, maximum leverage 1: 100 is applied
Besides, if you trade with some rare currency pairs: EURDKK, EURHKD, GBPDKK, USDDKK, USDHKD, USDCNH, EURRUB and USDRUB, leverage will not be higher than 1:50. For 2 currency pairs: USDTRY and EURTRY, leverage will not be higher than 1:100. And lastly, with pairs having CHF, maximum leverage will not be higher than 1:400.
Especially, XM also provides leverage adjustment tool. If you say the leverage of 1:888 is too high, you can log in, go to "Account" and choose "Change Leverage" to change to the leverage which you find more appropriate.
Commission Fee at XM
At XM, except Share account, all other accounts are free of commission fee, we could say it is a very huge offer for XM's traders.
Supports and Education provided by XM
From our point of view, XM could be one of the most competitive brokers who invest heavily in providing research and education for traders. Besides education materials, XM has a lot supports such as technical analysis, research or market signals which were developed by XM and only provide for its traders. So we could say all of them are special offers from XM
Trading signals by XM
XM provides a lot of market signals for traders, besides the technical analysis conducted by XM, you will also get the trading signals from Avramis Despotis, the forex expert, who used to  train employees for many well-known banks such as : Reuters, HSBC, Deutsche Bank, Saxo Bank, Barclays Bank…
All the analysis are conducted by Avramis Despotis, mainly focus on the 10 currency pairs: EUR/USD, GBP/JPY, USD/JPY, GBP/USD , EUR/JPY, AUD/USD, GOLD, US30, NIKKEI and OIL, will be sent to traders twice a day in local language, in which price for position, profit cut point, loss cut point are recommended. What you need to do can't me simpler, you just need to register, verify your account, you will get those signals at your personal area.
Besides, you can get the market signals provided by XM, by going to the Resource bar, after you log into your account. Then if you select "Technical Analysis", you will see an analysis in the below: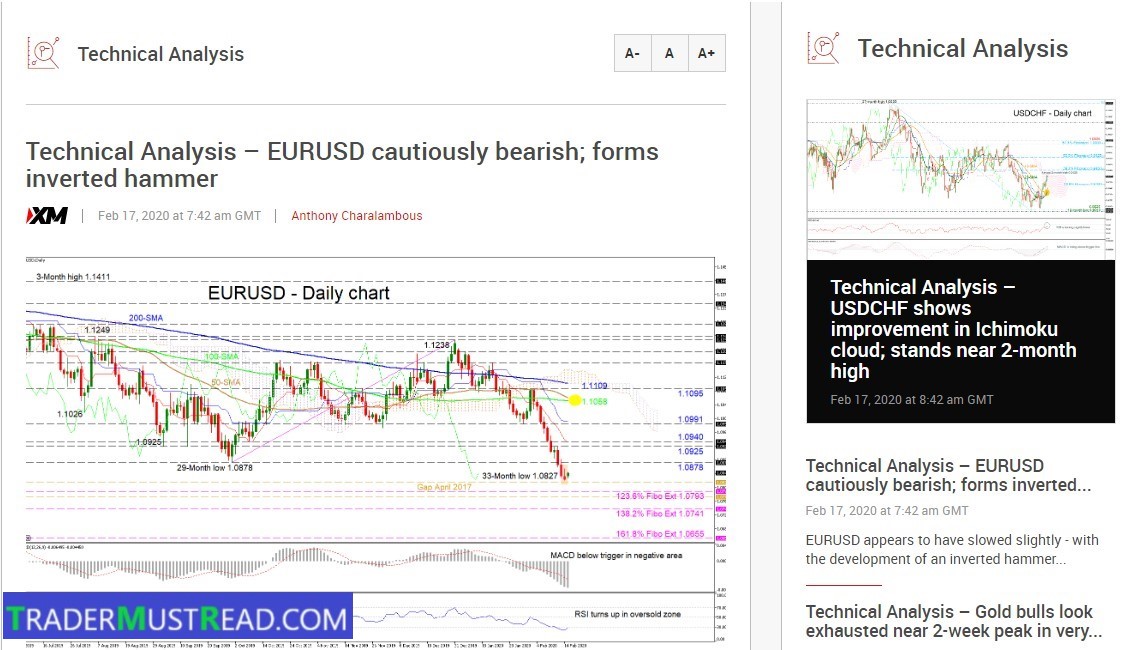 Signals developed by XM
XM is always proud to say that they have 450 top experts in the forex trading market to support, so it is easy to understand that XM is on top of market on signal analysis for MT4. Beside some common signals  as Ichimoku, Bollinger Bands or ADX, XM also develops Ribbon Indicator that help traders capture the trend, or reverse possibility.
Education resource at XM
Not only developing market signals or inviting market experts to have analysis for its traders, XM also focuses on educating its traders. Besides training videos on how to use MT4, MT5, XM also provide many more videos on other topics. Globally and locally, XM usually host many training workshop or online webinars for traders. You only need to register for an account and go join these free training opportunities.
If you want to open a XM account, please click on the below: