Wellcome you to the last part of our review for XM, including promotion, bonus, fee, clients support. At the end, you will find why we say XM is one of the most trustworthy and credible brokers.
Promotion and deals offered by XM
As we said right at the beginning, XM is investing heavily in marketing and bonus for traders. Here we would like to highlight some programs that we found very useful for your consideration:
A bonus of 30$ right after you register an account at XM
This program will be applied for first time client, all you need to do is verify your account successfully, you will get 30 USD bonus without doing anything else.
Below we list down all the steps to get 30 USD for you to practice trading and test with XM broker:
Open an account at

XM. 

Verify your account at your personal area by sending your personal identification and address

.

Click on Bonus request.

Complete Bonus confirmation following the guidance on the screen.

After completing all above steps, if your XM account is verified successfully. 30$ will be in your account for your trial trading.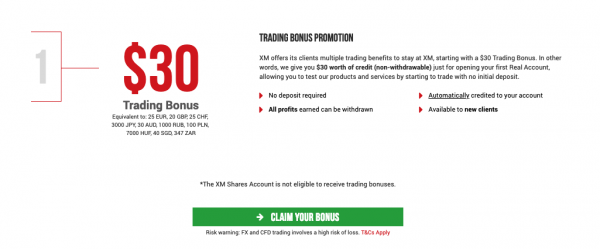 Then if you want to withdraw your money, XM has some very simple requirements:
Minimal Trading volume: 0.1 standard lot.

Minimal number of positions: 5
Welcome bonus of 15%
This is exactly as the name of the program, right after you deposit within 24 hours, your account will be added 15% of your deposit. But please be noted that the maximum amount will be added is 500 USD.
However, the bonus of 15% your deposit will not be withdrawn, this will be using for free margin and risk management. Besides, XM Ultra Low and XM Shares Account are not eligible for this program. That is very fair, and at the same time, very attractive for new traders, specifically, to support your trading, and incentivize you as well.
XM 10 years anniversary promotion
This is a lucky draw program of XM to celebrate its 10 year anniversary. You just need to have a real trading account with MT4/MT5 at XM and is verified with minimum balance at 500$ (or equivalent balance), you will get a ticket to join the lucky draw. The program will be run until August 2020.
Free VPS
If you maintain your minimal balance from at least 500 USD and have at least 2 standard lots (or 200 micro lots) every month, you will be free for VPS usage. If not, you must pay 28 USD/month to use VPS.
Deposit and Withdraw at XM
Currently, all deposits and withdraws will be made 24/7 via Neteller, Skrill, Visa, Master Card and Nganluong.
A very outstanding point for XM is that they support all the fees related to the method you use, no matter what is Neteller, Skrill, Visa or Mastercard. For instance, if you deposit 100 USD by Skrill and withdraw 100 USD by then, you will get full 100 USD in your Skrill account, because XM already pays all the transaction fee. You should give XM a big applause here because no other brokers can do it at the moment. However, if you withdraw an amount less than 200 USD, you have to bear the transaction fee from your bank.
All your withdrawn requests will be made within 24 hours via XM card or e-wallet. If you make a transfer or use credit card, it will take 2 -5 working days.
XM customer service
XM supports clients with multi-languages on 24/5 via email, phone call and live chat.
Each client will have supports from an Account Manager, who not only can help on technical supports via live chat, email or phone call, but also can help on 1:1 training on MT4 and others based on your need.
Therefore, we would say XM is one of the most professional and dedicated brokers at the moment.
In short, what is the pros and cons when trading with XM
Pros
Own many licenses from authorized financial organizations.

Integrated Forex and CFD on one single trading account.

Have separate account for traders who prefer stocks and shares.

No commission applied (except for Share account)

Very low minimal deposit.

Hedging allowed

Fast deposits and withdrawn

XM supports all transaction fee

Always on promotion, especially for new traders.

Provide market signals and technical analysis twice a day.
Cons
Cryptocurrency is not available.

Leverage is not applied for stocks trading, high deposit fee.
Now when it comes to reality, we got some feedback from our trading networks.
Actually, XM has been very successfully with its marketing campaign and promotion programs with a lot of impressive numbers on bonus, we still see some improvements as below:
Point #1: Slow position matching. XM says that they are pionerring with "no requotes policy" and don't reject any positions from 2019. They match 100% positions, in which 99,35% positions are matched in less than 1 second.  However, XM doesn't say specifically that which technology they based on, for example, P2P technology, or used to do. Therefore, we can't just justify the data which XM shared to the public. Therefore, if they could explain more specific in the execution policy, that will be more convincible.
Point #2, XM has not been clear that its operation is as Market Maker, STP or ECN because XM doesn't mention the liquidity providers. Even for Ultra Low account, which is designed to compete with ECN brokers such as ICMarkets.
Although XM can propose very competitive spread, no commission fee is applied. Basically, on True ECN brokers, traders' position will be put immediately into the market, no brokers will just charge some commission fee and do not touch into spread. But XM is offering free commission, in one way, we consider it very attractive, especially for new traders, in other ways, we just get wondered why is so attractive.
At the end, fairly say XM is really a credible broker, also aim to improve service quality and trading experience. One first and foremost example for statement is, they have just added Nganluong as a new transaction method recently, which provide more convenience for deposit and withdrawn, as well as providing many education tool, materials and trainings which were conducted, researched and designed by XM.
In fact, we all need to admit that every broker has its own pros and cons, so choosing the right broker would be on traders' decision, based on their need. Although we still see some pros of XM, but it is now serving 3.5 M traders, the number tells it all, it is trustworthy and credible, that's why millions of traders are choosing XM for their trading journey.
With you all the trading success, If you want to open a XM account, please click on the below:
TraderMustRead