XTB may not be a familiar broker for many traders, but what XTB has built, could not be surely done by reputable forex brokers, such as: XTB is one of the tier 1 liquidity providers; owns numerous licenses from leading financial agencies such as CA, CySEC, KNF, Bafin, ... and most importantly XTB was listed on the Warsaw Stock Exchange, Poland in 2016 with stock code XTB. We do believe that this such information is enough to justify the quality of XTB as well as the level of reliability, professionalism, safety that this broker brings to traders. If you are curious, want to learn about this broker, please do follow our series of articles to review XTB in deep details.
Basic information about XTB
Established year: 2002

Licensing authorities: FCA (UK), CySec (Cyprus), KNF (Poland), IFSC (Belize)

Minimum deposit: 1 USD

Maximum leverage: 1: 500

Software used: MT4 and xStation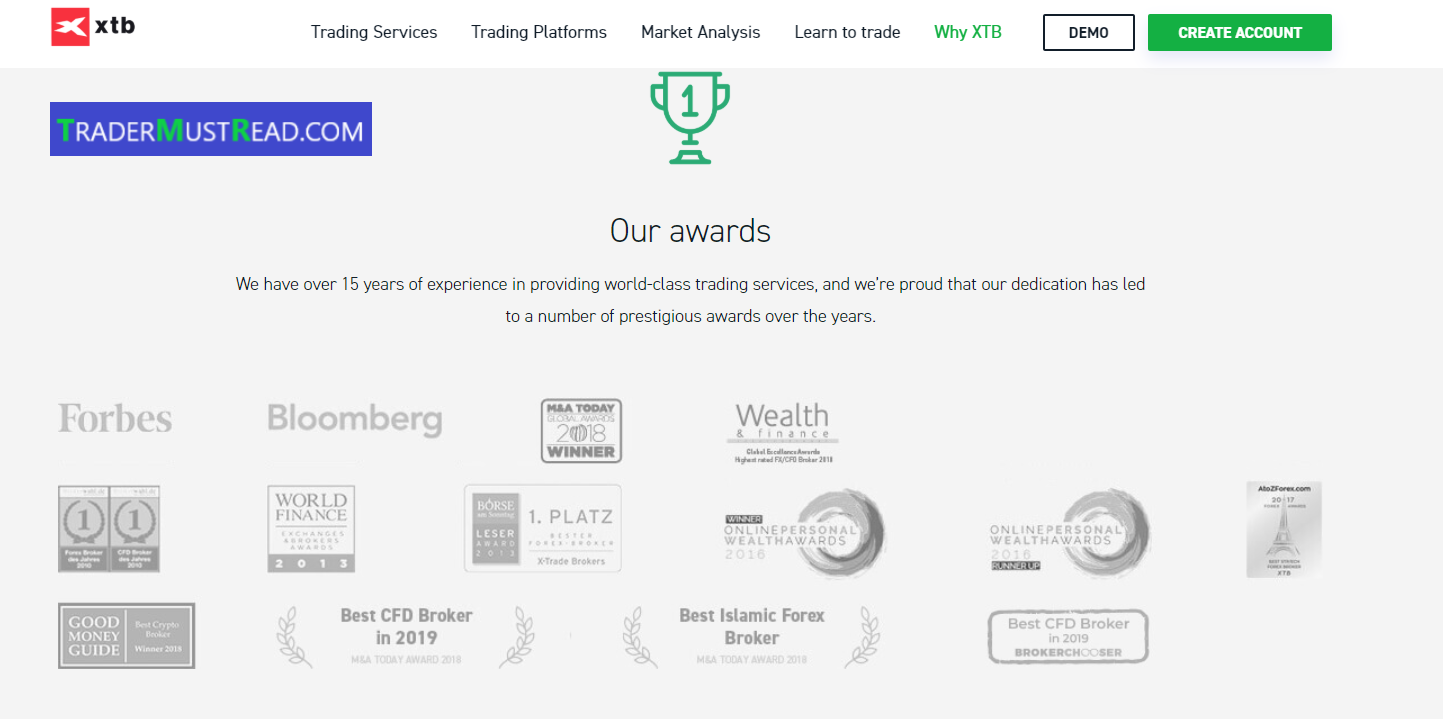 First of all, if you want to talk briefly about XTB, this is not only a regular forex broker, but also a liquidity provider.
As you know, when trading with ECN-based brokers, once opening a position, the broker will become the intermediary of pushing your orders to partners that provide liquidity to execute orders. But when trading at XTB, you will not need to wait, because XTB is the provider of tier 1 liquidity for you already! Thanks to that, the matching speed is not only fast but also is not re-quoted even when the market is most volatile.
Even, XTB also provides liquidity for many partners including many forex brokers that are familiar with many traders. So, if you do not have time to thoroughly research or review the XTB license, just with the above information, you can completely evaluate the strength and reputation of XTB.
XTB was founded in 2002, in Poland under the name X-Trade Brokers. Later in 2004, X-Trade was merged into XTB. Since then, during 17 years of operation, XTB has continuously developed to become one of the largest forex brokers in the world, with offices located in more than 10 different countries such as Belize, England, Poland, Germany, Spain and France.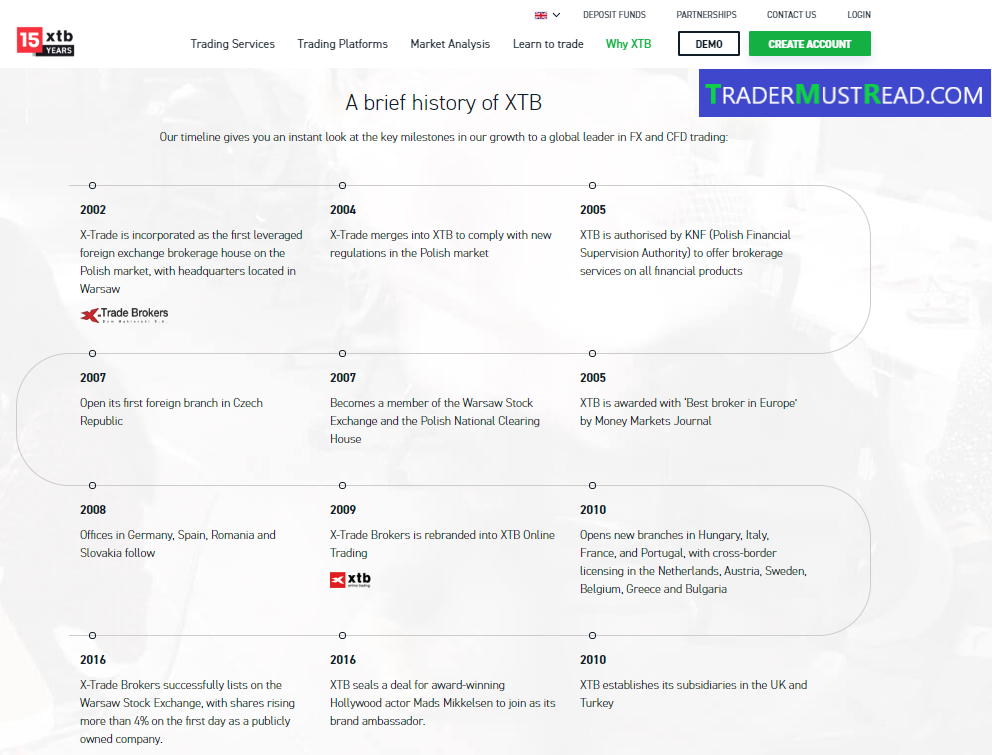 Therefore, XTB has also received many awards from prestigious organizations such as: "The Best CFDs Broker 2019" by Broker Chooser Magazine, or The Best European Broker "by Money Magazine,…
Certificates and operating licenses of XTB
The operating license is one of the most basic points to assess whether a forex broker is reputable or not.
Why is this point important? Because when the broker is licensed from a regulatory agency, the broker must comply with all rules set by the agency to limit frauds to traders. Therefore, when the forex broker is in breach, the financial management agency can sanction, restrict or even permanently revoke the operation license of the floor (FXCM is a typical case that CFTC has deprived of the business license, and a $ 7 million fine after having fraud to traders).
In addition, each regulatory agency will have different requirements, so the larger the agency, the more stringent the request. Therefore, the forex broker is licensed by organizations such as ASIC, FCA, BaFin or CySEC, which will ensure a certain level of reputation of the broker, helping traders feel secure when trading.
In order to be licensed by one of the aforementioned regulators, forex broker itself must make a lot of effort, even, FBS – a forex broker has been very familiar with many traders, established since 2009, but until 2017, that is, after 8 years of operation, received a license from CySEC!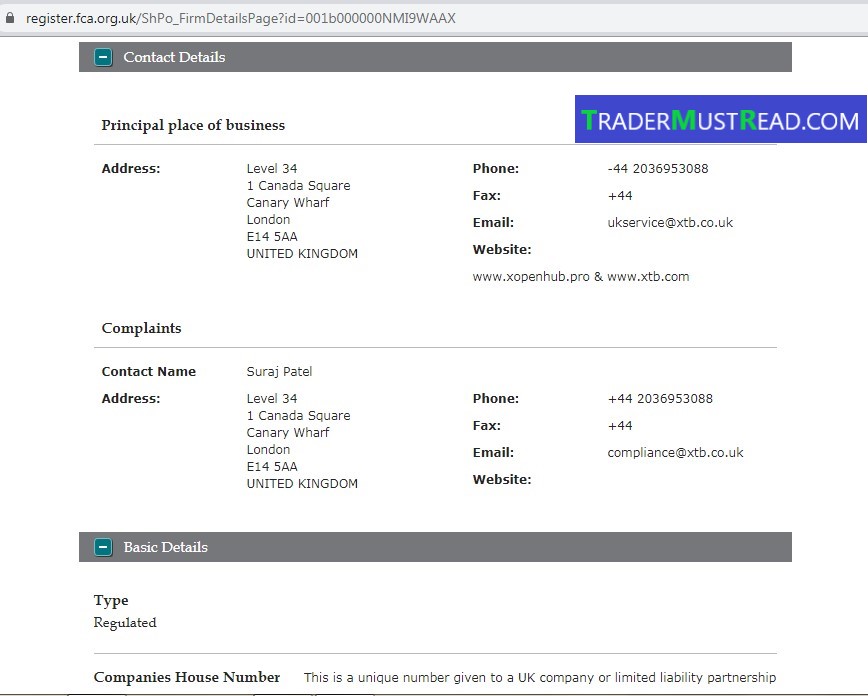 Therefore, if you look at the number of XTB licenses owned, you also understand how much of the prestige and professionalism of the broker to be licensed by so many agencies. The licenses that XTB has include:
BaFIN (Germany) - Code: 121520. You can refer here.
CNMV (Spain) - Code: 40. You can refer here.

IFSC (Belize) - Code: IFSC / 60/413 / TS / 19. You can see more here.

CySEC (Cyprus) - Code: 169/12. You can see more here.
KNF (Poland) - Code: DDM-M-4021-57-1 / 2005. You can see more here.
FCA (United Kingdom) - Code: 522157. You can refer here.
How can these licenses protect traders' benefits?
Separating account mechanism
XTB is managed by Komisja Nadzoru Finansowego (KNF) to provide services to countries in the Europe. As we know, KNF is one of the financial management agencies with strict requirements regarding the protection of traders' deposits and limiting conflicts of interest between the two parties, by separating account mechanism (Segregated account). So when being licensed by KNF, it means XTB must have 2 separate accounts to comply with KNF regulations set out.
Accordingly, the segregated account means the trader's margin account and the broker account are separate. This will help protect your investments, prevent the company from using your margin on other purposes, or sometimes use the same money against your orders. In addition, segregated account is also a sign that the broker has enough financial resources to pay for investors, without risks of lack of liquidity. Not only that, KNF also requires an annual audit to review the financial capacity of the broker, so traders can be assured when trading at XTB.
Reimbursement policy for traders
Not only a member of the Investor Compensation Program (ICS) which provides insurance to customers in case the company goes bankrupt or insolvent. But XTB is also under the control of FCA and CySEC, XTB guarantees to be responsible for customers with a compensation of £ 50,000 statutory from FCA and EUR 20000 under the law from CySEC.
Not only owns many reputable licenses, XTB is also listed on the stock exchange
In addition to owning a number of reputable licenses from many different agencies. The most remarkable point of XTB is that it was listed on the Warsaw Stock Exchange, Poland in 2016.
The reason for saying this is, one of the key points we mentioned in "The criteria for selecting a forex broker" article, is that a reputable forex broker will be listed on the stock exchange.
To be listed, besides transparent on all financial reports, all information related to the company or exchange must be clear and completely "real". And the forex broker itself is under supervision of many different agencies to be complied with the regulations, ensuring the operation of the company is legal. As a result, traders' rights will always be more protected.
This can be considered as the highest level to affirm the reputation of a forex broker. Therefore, among thousands of brokers, there would be an eligible one. And XTB is one of those brokers that possesses such level.
If you would like to open an account, please click here:
CREATE YOUR ACCOUNT