Trading account and products provided by XTB
Trading accounts
XTB offers 2 main types of accounts: Standard account and Pro account.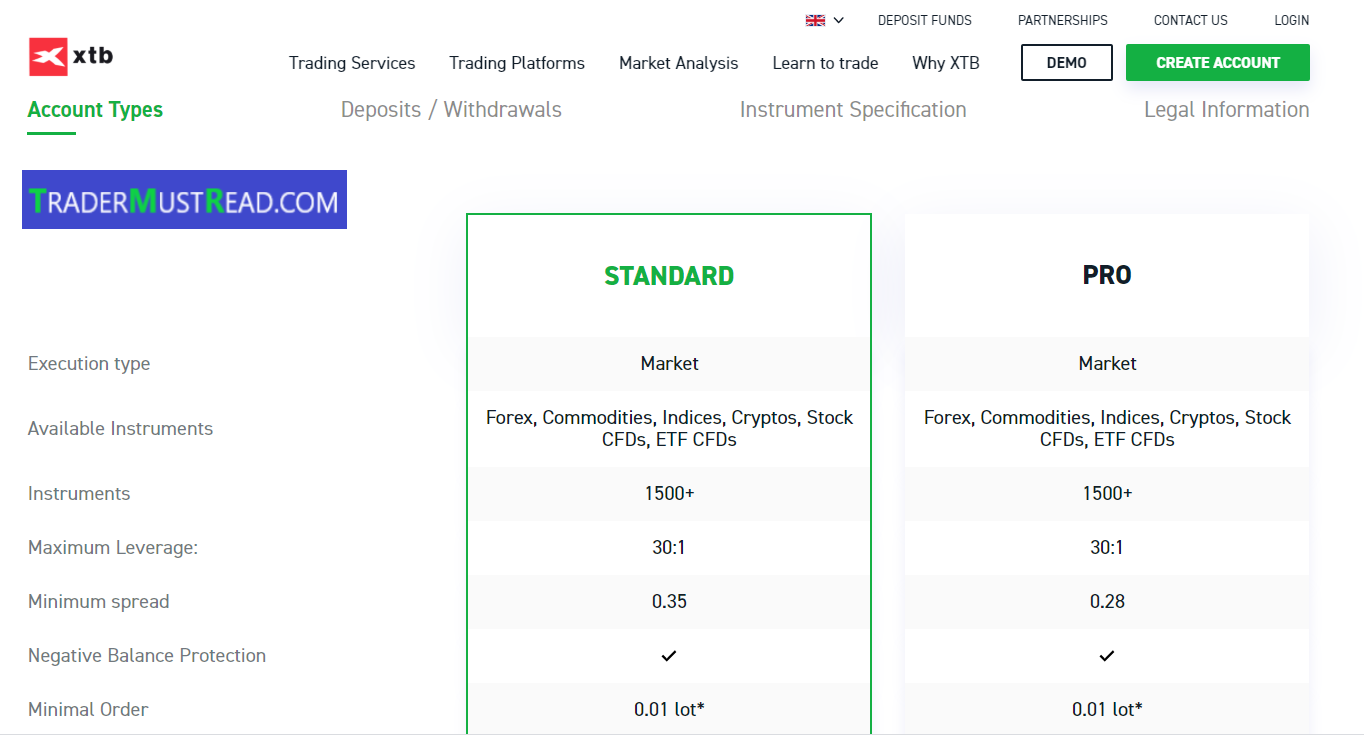 Standard Account
There are three types of accounts in Standard accounts: Standard A, Standard B and Standard C. This account is suitable for new traders entering the market. Especially for traders who love cryptocurrencies, because the Pro account will not provide this product. So if you want to trade cryptocurrencies, you are required to open 1 of the 3 types of Standard accounts mentioned above.
Basic information about Standard account:
Maximum leverage: 1: 500

Spread Type: Floating

Difference (pip): 0.35 pips

Commission: No.

Minimum order opening: 0.01 lot

Minimum deposit: $ 1
Pro account
This type of account is suitable for professional traders who like to surf, thanks to the super low spread of 0.1 pips or more, and the average commission fee of 7 USD / lot for 2-way, like other forex brokers.
In addition, with the Pro account, CFD stocks and ETF products only take 0.08% / lot. In particular, index transactions will be free of swap, really very attractive for you to experience. Because trading indices, trading CFDs and ETFs is not the same as trading forex, you will incur a lot of different fees. In particular, the most painful fee is the swap fee. Therefore, most forex brokers offer these products, but because the fees are too high, not every broker can trade. In addition to free index trading, ETFs and CFDs still take swap fees but are really very low, not as high as many other forex brokers. So if you are interested in indices, stocks or ETFs, you can refer to XTB and Pro accounts.
The only minus point in this Pro account is that you will have to open a trading volume of 0.1 lots or more. Although the minimum deposit is still only $ 1, but must open at least 0.1 lots plus maximum leverage of 1: 500 and commission fee of 7 USD / lot. So if you want to experience this account you must deposit from 50 USD or more to open a position.
Basic information of Pro account:
Minimum deposit: $ 1

Maximum leverage: 1: 500

Spread Type: Floating

Difference from (pip): 0.1 pip

Commission: 7 USD / lot

Minimum order opening: 0.1 lots
Trading products provided by XTB
This can be said to be the point that makes XTB really different from many existing brokers, with the large number of products up to 1800 products in all areas such as:
Forex currency (49 pairs);

Stock index (42 indices);

CFD stock (1724 codes);

ETF (104 codes);

Cryptocurrencies (25 codes);
Cryptocurrencies
It can be seen that XTB is one of the reputable forex brokers currently offering a large number of cryptocurrency pairs for traders. This is indeed an extreme good point for XTB. As you know, most forex brokers offers cryptocurrencies, but with a limited number of only 3 to 5 pairs. In addition, there are some brokers, saying that are providing cryptocurrencies, but are only allowed to trade from Monday to Friday, closed on Saturday and Sunday as many pairs of forex, metals and other commodities. This is really detrimental to those who love cryptocurrencies, because 2 weekends are the most volatile days for this type of product. However, at XTB you can completely trade like any other brokers, without having to worry about closing on the weekends.
Another plus point that cannot be ignored is the swap fee. With the exception of BTC, all the remaining pairs are super cheap, almost no fee, usually less than 0.3 USD for one trading unit. As you can see in the example, with 10 ETH, the XTB overnight charge for Sell orders is only 1.12 USD. Meanwhile, for overnight Buy orders, you only lose $ 0.37 for 10 ETH. Very cheap! So, XTB is really worth considering if you are looking for a forex broker to trade cryptocurrencies.
CFD stocks and ETF
Similar to cryptocurrencies, CFD and ETF (Exchange Trade Fund - ETF) are a combination of common funds and stocks, meaning that ETFs are both funded but still work as other stocks, a very well known ETF is the S&P500).
XTB offers a wide range of stocks from major stock markets from the US, UK, Germany, France,… Even not only limited to basic funds such as iShare fund, but XTB also provides ETF of the SPDR gold fund, USO oil price tracking fund, ...
A 1-week "hold" transaction fee of XTB compared to two other well-known brokers are IG and eToro
Not only providing many products, the transaction fee of these products at XTB is also very low, only 0.08%, much lower than when trading basic stocks. And the most important thing is that although the nature of shares traded at XTB is still CFD, but you can still receive DIVIDEND, if you keep the order until the date the company pays, according to the schedule and values ​​announced by the company.
This is really a huge advantage that not every broker can have. In particular, the index trading at XTB do not charge swap fees (overnight fees), which every trader considers when trading. In 1 year time,  you will only lose a few times Rollover fee, but it is insignificant and depending on the products you trade, not every product will be applied this fee. You can refer to the information here and below is an example.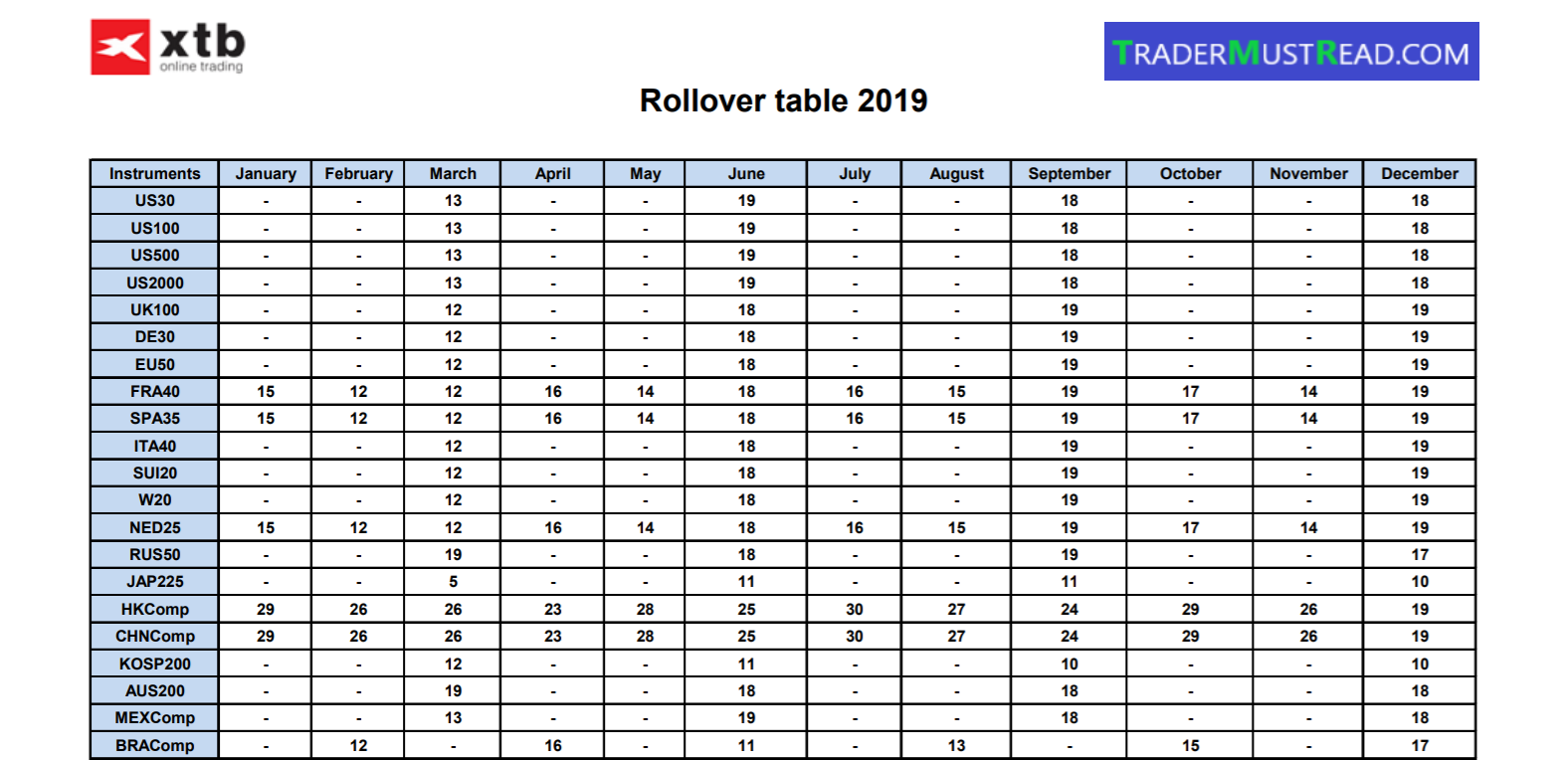 Leverage, commission fee and pread at XTB
Leverage
The maximum leverage at XTB is 1: 500, however, depending on the type of product, there will be different levels of leverage such as:
• Forex maximum leverage 1: 500.
• The maximum leverage for indexes is 1: 200 for common stocks; For less common stocks the leverage will be 1: 66.7.
• Commodities (such as soybean, coffee, sugar, flour, oil ...), maximum leverage of 1: 333.3, For Gold, maximum leverage will be 1: 500.
• CFD stocks, maximum leverage 1:20.
• CFD ETFs with maximum leverage 1: 5.
• Cryptocurrencies, leverage up to 1: 5.
Spread and commission fee at XTB
XTB provides 2 main types of accounts: Standard and Pro (ECN). Accordingly, there will be 2 different spread levels:
Standard account (including: Standard A, Standard B and Standard C) with a difference of 1.3 pips and no commission charge

Pro Account: spread are much lower from just 0.1 pips and commission is $ 7 / lot for 2 ways.
An important note, when you trade with XTB, you deal with a liquidity provider. The order will never be requoted again, so even at the time of the news release, the price is still extremely smooth to ensure the maximum benefit for traders.
If you would like to open an account, please click here:
CREATE YOUR ACCOUNT