What kinds of account are Exness providing?
Previously, Exness only provided 4 main accounts, include: Cent, Mini, Classic, and ECN.
However, as we mentioned above, Exness understand traders behaviors well, as well as to compete with other forex borkers such as FXTM, HotForex, Liteforex, or XM, Exness already had lost of significant improvements to suite with traders' demand. Following that, Exness divides trading accounts based on 2  trading software, MT4 and MT5, with 2 main accounts: Standard account và Professional Account.
For MT4, there will be 2 standard accounts, including: Standard and Standard Cent, and 3 professional accounts Raw Spread, Pro and Zero.
While with MT5, Exness only provides 1 standard account and 3 professional accounts, including: Raw Spread, Pro and Zero.
Basically, the accounts of MT4 and MT5 of Exness have a slight difference in terms of minimal deposits and leverage. And most especially, only accounts using MT5 can trade CFD and indicies.
If you are a new trader, we highly recommend that you should use MT4 when trading with Exness. However, if you want to trade in stock market, you have to have account with MT5. So you have to know what exactly you want to trade, then open a suitable account with your need. Below we will brief you on every account at Exness so you can make final decision.
Standard account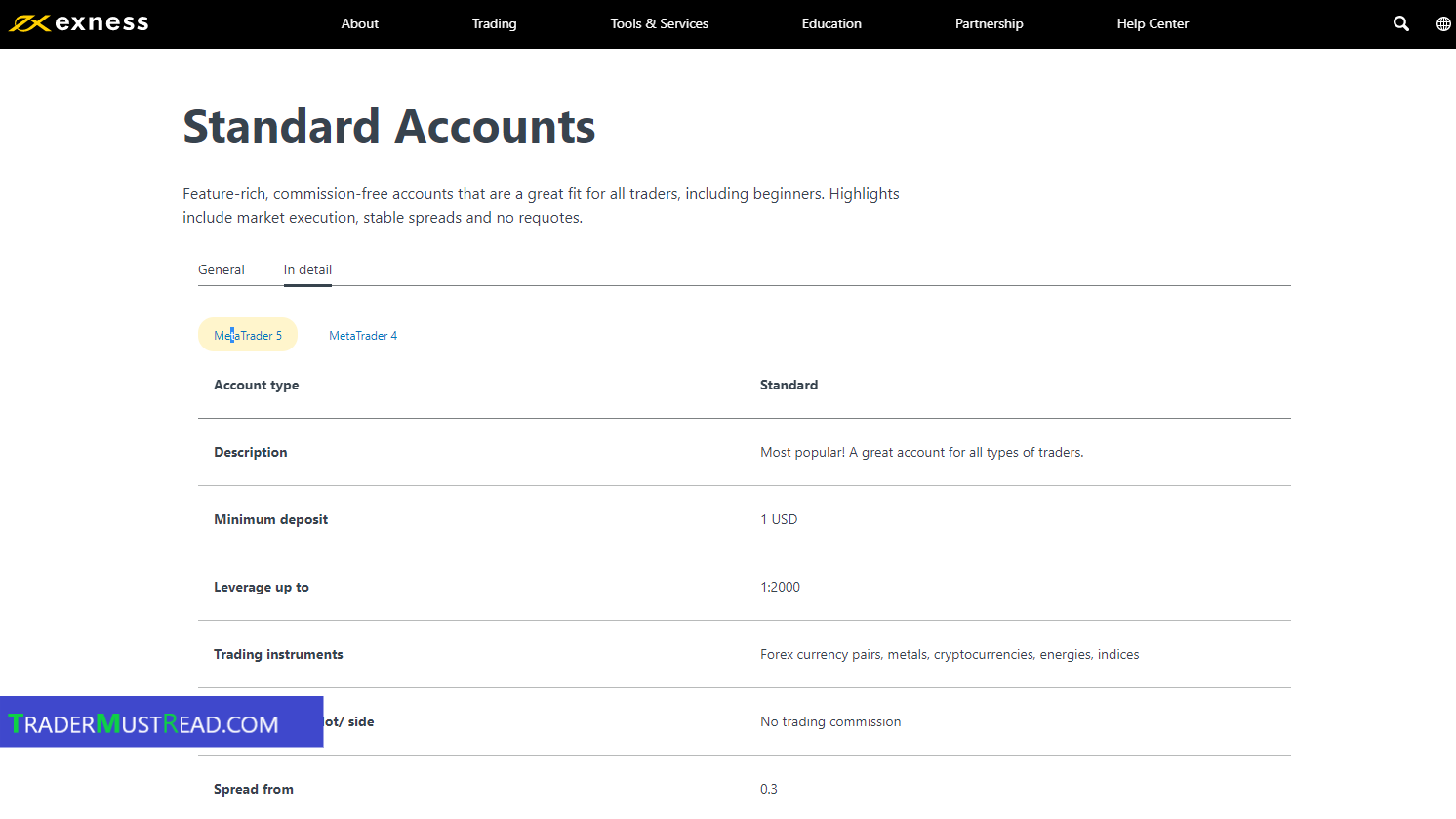 You can refer more on Exness website here
This account type was designed especially for new trader or who want to test with new brokers or EA by Exness. Therefore, minimal deposit is very minor, $1, and has leverage up to infinity (for accounts with MT4) and leverage 1:2000 (for account with MT5).
For standard account, it is divided into 2 accounts: Standard and Standard Cent accounts.
These 2 accounts have many similarities and have slight difference about deposits and applicable products.
If with Standard account, money will be counted with USD, with Standard Cent account, money will be counted as Cent. For example: you deposit $100 USD into your Standard Cent, it will not be showed as sẽ $100, it will be showed 10000 Cent. It will help increase trading opportunity for traders, especially for those who are new to trading. You can easily it will reduce the risk as the lot value is much smaller, so if you face with loss, the loss value will be not much compared to accounts with USD. And more importantly, you now have experience with your real money trading, all now done by you in real trading world, not in a demo environment. We always value real experience and learn much faster compared to when you learned with a demo account.
However, with Standard Cent account provided Exness, you have limited available products, and only can trade with some certain currency pairs and metals. If you want to trade crypto currency, energy and indexes, you have to open Standard account.
Professional account
You can learn more at Exness website here
The account name tells all about it. It is for those who already have trading experience, so Exness requests higher deposit value, from USD 200, much higher compared to standard account, right? Besides, every account will have different policies, so you can learn and make final decision. Within professional account, there are 3 sub-accounts for you to choose: Raw Spread, Pro, and Zero.
Raw Spread account:
Minimal deposit: 200 USD

Maximum leverage: 1:2000 (with account on MT5) và 1: Infinity (with account on MT4).

Commission fee: fixed 7 USD/2-way lot

Spread from: 0.0
Pro account
Accounts with instant execution. Finish fast and no inflation.

Minimal deposit: 200 USD

Leverage up to: 1:2000 (for accounts with MT5) and 1: Infinity (For accounts with MT4).

Spread from: 0.1

Commission fee: No
Zero account
Get 0 spreads for 95% of the trading day on 30 pairs.

Minimal deposit: 200 USD

Leverage up to: 1:2000 (for accounts with MT5) và 1: Infinity (For accounts with MT4).

Spread from: 0.0
In reality, if you just look at the information that Exness provides for 3 account types, you will find them pretty much the same. However, you will find them differently at commission fee and spread. And then this is a fundamental factor so Exness has these types of accounts to compete with other brokers such as FXTM, XM, HotForex or LiteForex.
According to Exness policy, Pro account will not bear commission fee, while Raw Spread account has fixed commission fee at 7 USD/2-way lot. So, it means all executions will have a fee at 7 USD. However, Zero account will have commission fee from at least 7 USD, especially with metals and rare currency pairs, commission fee could be 10 USD/2-way lot.
And because there is a higher commission fee for Zero account than Raw Spread account, so Exness proposes for Zero account a very low Spread, right as its account name - Zero. Particularly, traders will have spread at 0 pip for 30 financial tools in 95 % trading time.
Reversely, Raw Spread account will have spread from 0 pip and above, but just a little bit higher compared to Zero account and depends on which products then Exness will set a certain spread for Raw Spread account.
Compared to 2 above accounts, Pro account will have highest spread, from 0.1 pip and above, but Exness will not ask traders for commission fee.
So, if you already have trading experience, you can choose 1 mong 3 Professional accounts that Exness provides, and definitely depends on what you need to make a final decision.
After looking details as above, you can now see that Exness can meet expectation of every trader, from one with no experience to one like a trading veteran, as well as suit with different trading need of traders.
We will have another article about what Leverage, Spread and Commission fee of Exness. Let's wait.
If you would like to open an Exness acount, please click on the box below.