Trading products, leverage, commission and spread on ICMarkets
Trading products and leverage provided by ICMarkets
ICMarkets is the broker providing the most diversified products today, including bonds, a product that is almost "missed out" in other forex brokers.
Basic information about the products provided by ICMarkets
Forex currency: 65 pairs; enjoy maximum leverage of 1: 500

Commodities: 19 products include: metals, agricultural products and energy; maximum leverage of 1: 500 with precious metals such as gold, silver or energy; with the remaining products such as corn, soy, sugar, coffee and wheat maximum leverage will be 1: 100

Shares: 120 products; 1:20 maximum leverage, only traded on MT5

Index: 17 products; enjoy maximum leverage of 1: 200,

Bonds: 6 products; enjoy maximum leverage of 1: 200

Cryptocurrencies: 10 products; enjoy maximum leverage of 1: 5
Thus, 65 forex pairs is more than enough for traders. In addition, some of the product highlights provided by ICMarkets are as follows: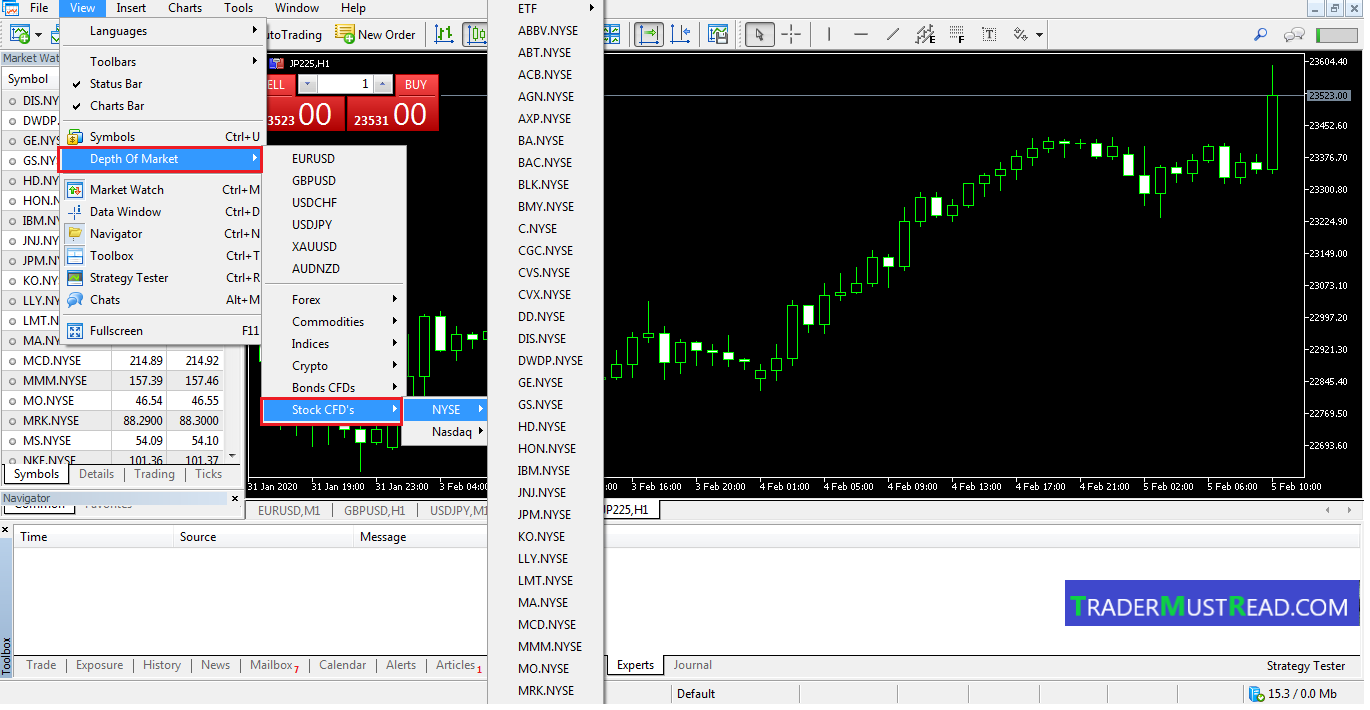 Stocks
Compared with XTB, the number of shares that ICMarkets has is only 1/14 times (XTB provides 1700 different stocks in 15 countries worldwide).
But the stock products offered by ICMarkets are all listed on the two largest US stock exchanges, NASDAQ and NYSE. So even less, but they are really stocks with high quality and liquidity.
In addition, similar to XTB, when trading stocks on ICMarkets you also receive Dividends, also one of the most attractive advantages for many traders.
Basically, forex brokers often trade in the direction of CFD, meaning based on the difference of the indexes, and at this time the stock product will not be much different from gold or metal products.
However, at present, some brokers like ICMarkets and XTB have helped CFD shares have many similarities compared to basic stock trading, at traditional stock brokers, it is entitled to receive dividend.
If you want to trade many different stocks, you can refer to the information of XTB, one of the reputable forex stock that provides 1700 stocks worldwide, through a detailed review of the XTB here.
ICMarkets uses dividend data estimated by Bloomberg (E&OE), rounded to the amount that ICMarkets uses for that index (3 digits). Accordingly, if you Buy at the time the company pay dividend, you will receive dividends in your trading account, if you Sell you will be deducted costs, like real stocks.
Dividend calendar provided by ICMarkets
If you trade with XTB, you can check the dividend schedule right on xStation, but if you trade with ICMarkets you cannot check this information on MT5, instead you have to visit ICMarkets website here.
Then, go to the section "Trading Data" and select "Ex Dividends Stocks", will appear the entire list of shares and dates that will be paying dividend. Or you can check all this information through Bloomberg, because ICMarkets also gets references from Bloomberg.
Forex
Of course these are common products, forex brokers have all, but the highlight of ICMarkets is that they offer a lot of rare currency pairs and a comfortable overnight fee, an overnight fee for orders. Buy with USDTRY pair is -150 USD / lot while with sell order will be +79 USD / lot. In addition, forex currencies have extremely attractive spreads, which we will talk more about later.
Cryptocurrency
This is probably the product that frustrates the most traders when trading at ICMarkets.
Because ICMarkets not only provides a fairly low leverage of only 1: 5 (at Exness with BTC is 1: 100, the remaining products are 1:20), the overnight fee for cryptocurrencies is too high, will take charge 20 USD / lot for both Buy and Sell orders (at Exness, does not incur this fee). Not only that, cryptocurrencies will be closed, not allowed to be traded on 2 weekends, at ICMarkets like all other products.
Therefore, if you want to trade cryptocurrencies, ICMarkets is not an option for you, instead you can refer to the Exness platform we have introduced in previous articles.
Commission fee and spread provided by ICMarkets
As mentioned, because ICMarkets is an ECN broker, it mainly makes money from Commission fees, not spreads like many forex brokers.
With 3 types of accounts provided by ICMarkets, only Standard accounts do not charge commission. True ECN and cTrader accounts will cost this fee.
In particular, the commission for the Raw Spread account (compatible with MT4 and MT5 software) is fixed at $ 7 / lot. This means that any pair of products traded with the Raw Spread account for MT4 and MT5 will be charged 7 USD / lot.
Meanwhile, the commission for Raw Spread accounts using cTrader software is 3 USD for 1 standard lot. However, this price will be converted to the value at the time of listing of the currency pair, at the time of opening and closing of the trading order. So basically commission may be larger than $ 3 / lot /way.
For example, at the time of trading EURUSD, 1 lot of EURUSD has an opening price for this currency pair of 1.3, the commission when you open the order will be: € 100,000 x 1.3000 = USD $ 130,000 x (3 / 100,000) = $ 3.90.
Meanwhile, if at the time of order closure, the price of EURUSD shifts to 1.31, meaning the commission fee would be: € 100,000 x 1.3100 = USD $ 131,000 x (3 / 100,000) = $ 3.93.
Thus, the total commission paid for a 2-way lot in cTrader account will be $ 3.9 + $ 3.93 = $ 7.83. You can look at the image below to better understand:
You can refer the whole spread table provided by ICMarkets here.
Look at the above commission fee, we would say it is perfectly reasonable to recommend you open Raw Spread account on MT4 and MT5 software.
In addition to the friendly, easy-to-use interface, the commission fee is always fixed at 7 USD / lot for 2-way standard, not volatile as cTrader account.
It can be said that this is a very comfortable commission level provided by ICMarkets. It is hardly to enjoy spreads at 0 as at ICMarkets, typically Exness, or Nordfx, the commission will not be fixed, but depends on each pair in which the metal pairs such as Gold, commission fee may be 10 USD / lot.
Spread provided by ICMarkets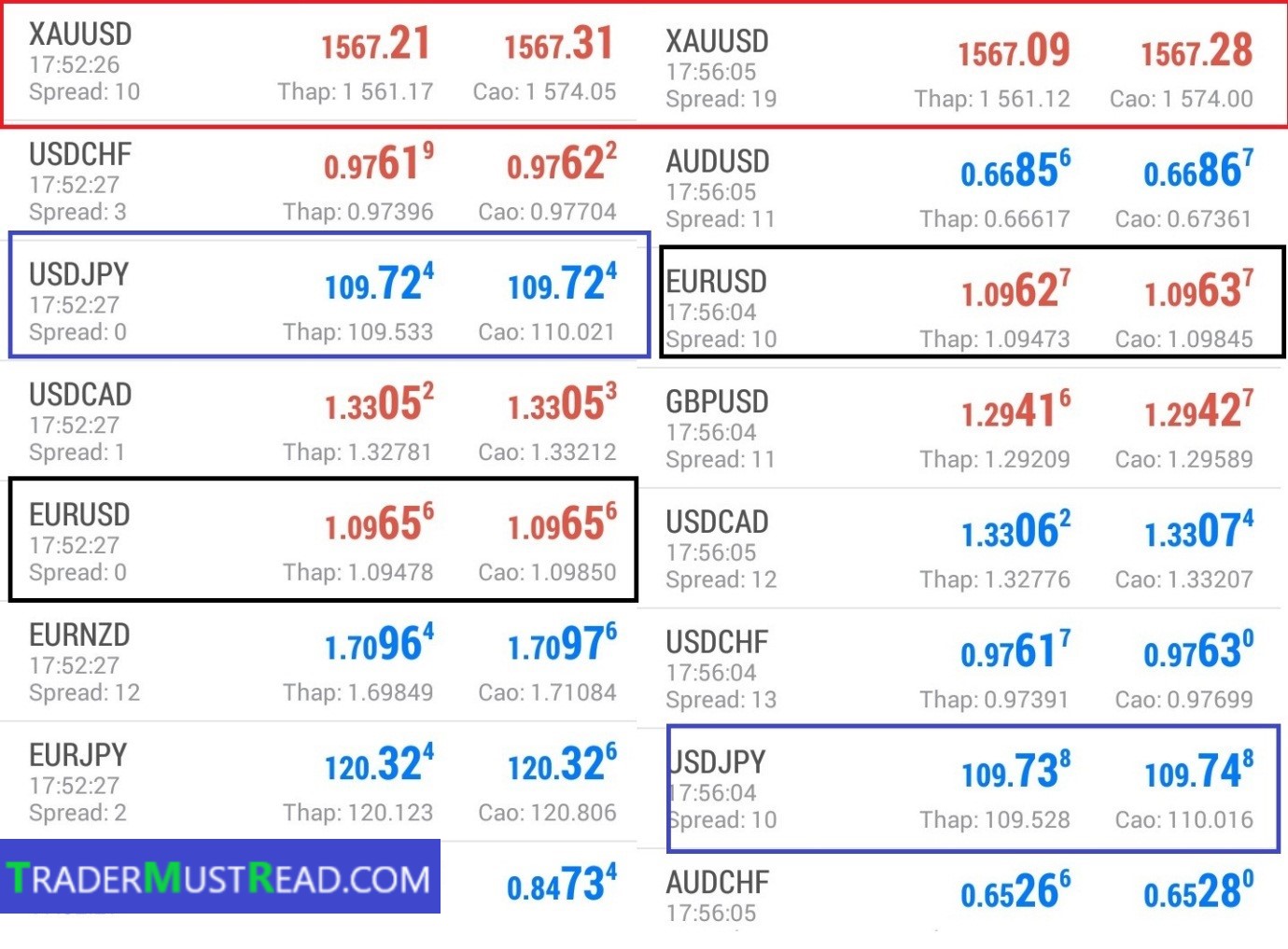 (The right table: Raw Spread, the left table: Standard)
The image above illustrates the super low spread that ICMarkets offers to traders. The picture was taken at 23pm, the time the market was quiet, not as exciting as at 19pm, but the spread of currency pairs such as EUR or USDJPY was completely zero, even gold was super low, plus a total of the spreads and commission for the Raws Spread account is only 17 USD, really worth to experience, right?
Deposit and Withdrawal at ICMarkets
ICMarkets offers traders a variety of payment gateways such as Internet Banking / VISA / Paypal / Neteller / Skrill.
ICMarkets has free withdrawal support, but withdrawing in the form of International Bank Wire (wire transfer) will cost 20 AUD (more than VND 300,000) collected by the bank.
For the first time of trading, if you deposit via any method, you must withdraw by that method. For example, if you deposit USD 500 into ICMarkets with Visa Debit card, this USD 500 will have to withdraw to Visa card, and the amount of interest can be withdrawn via other services such as Neteller, Paypal or Visa card. In case of unfortunate loss, your account has only 50 USD left, this amount will be received back on Visa Debit card in the form of refund if your deposit is less than 60 days. In case the deposit has exceeded 60 days, the remaining USD 50 will be transferred to the card in the form of international transfer.
The most special feature of ICMarkets is supporting deposit and withdrawal for traders is Paypal support and domestic banks via Internet Banking.
These are both very convenient deposit and withdrawal gateways for traders, because you can take advantage of Paypal as online users to enjoy good rates. In addition, with support for such a large number of banks, many forex brokers currently only support up to limited and large banks, giving us more options that can be easily deposited at ICMarkets.
The most inconvenient aspect of ICMarkets is that withdrawing money takes more time and must withdraw before 8 am to return the money in the day.
According to our experience, if you withdraw is close at 8am, the money will be in your account at about 15:00 on the same day, but if you withdraw earlier, like placing an order from the previous night, at about 13h or 14h you will receive money. If you place an order to withdraw after 8 am, the request will be processed the next day. Please note this issue to execute orders at ICMarkets.
This withdrawal procedure can be difficult for many people, but because ICMarkets manually approves and follows the regulations from ASIC, this problem must be accepted and cannot be different.
Customer Support of ICMarkets
Currently ICMarkets supports 24/7 including 2 weekends. Therefore, when there is a problem that you need to solve, you can ask for support, you can meet staff anytime you want. ICMarkets support team is very professional so we will get answers to your questions soon.
Pros and cons summary for ICMarkets
Pros
Very reputable floor, you don't need to worry about being scammed

Very suitable for traders who like to trade on ECN platforms

Suitable for scalping and even for hedging (execute reciprocal orders, execute Buy and Sell orders at the same time).

Super low spread and pleasant commission

Professional and enthusiastic support staff

Application of many advanced software for traders to use and is free
Cons
The minimum deposit is high from 200 USD or more

All products including cryptocurrencies are closed on Saturdays and Sundays

There is no bonus program for traders

Procedures for withdrawal are complicated and time consuming. Although ICMarkets only follow the rules of ASIC, this will also cause discomfort for many traders.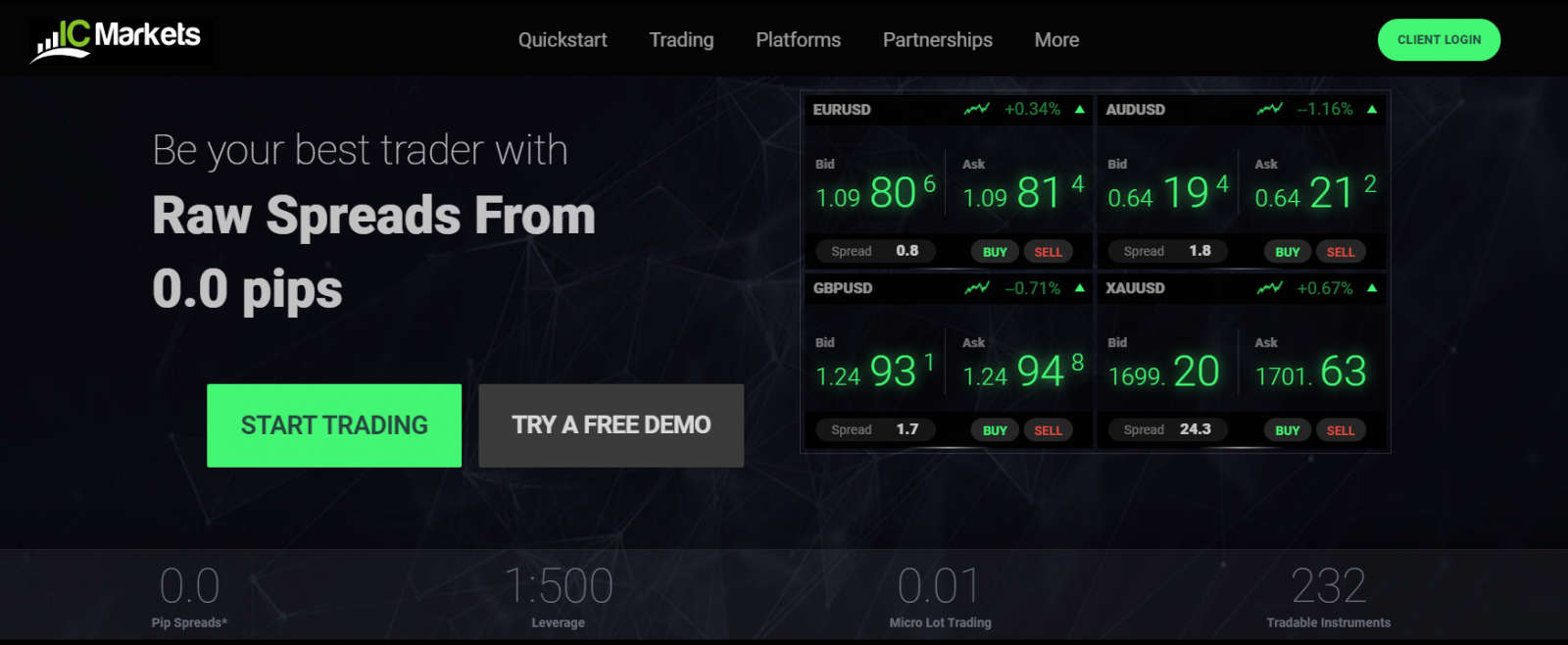 Thus, to conclude about ICMarkets broker, perhaps we just use the following 6 words is enough: Trustworthy - Quality - Professional. Indeed, ICMarkets is well worth the experience. Especially, if you trade in large volumes, you not only enjoy attractive spread, orders are not requote, the commission is extremely pleasant as above. Hope you will find the most reputable forex broker for yourself. Good luck!
If you want to open an account, please click on the below:
CREATE YOUR ACCOUNT